What would you do with $500 million?
That's a question millions of people across the country are asking themselves as the clock ticks down to Friday's record-breaking Mega Millions lottery drawing.
"I'd pay off my house and probably buy another one," said Alexandria resident Wanda Layne, who bought a ticket to Tuesday's Mega Millions drawing and was readying to play Friday. No one won the $363 million prize after Tuesday's drawing, setting up the largest lottery jackpot in history.
"I'd take care of my family, I'd definitely travel," Ms. Layne said. "If I won, I'd build a center for children at risk in Southeast Washington."
The Mega Millions jackpot hit the half-billion-dollar mark by noon Wednesday, lottery officials said. It could go higher as players in 42 states, the District and the Virgin Islands snap up tickets that they hope hold the six lucky numbers that would change their lives.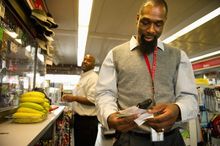 "We're calling it 'the planet's largest jackpot,'" said D.C. Lottery Executive Director Buddy Roogow. "Obviously there's tremendous excitement. I think at this stage, with a jackpot of $500 million, it's very conservative. I'm sure it's going to be more."
The numbers will be drawn at 11 p.m. Friday. The lump-sum cash payout would be $359 million — a haul that dwarfs the second-largest Mega Millions jackpot of $240 million, paid out in 2011 for two lottery tickets sold in Idaho and Washington state.
"People who don't usually play, play," when the jackpot is this big, said Virginia Lottery Executive Director Paula Otto.
Ms. Layne said she isn't a regular lottery player, but does get interested when the jackpot "gets outrageous."
"There's magic in that huge jackpot," Ms. Otto said. "This is the lottery's version of March Madness."
According to the Georgia Lottery in Atlanta, where the Mega Millions numbers are drawn, the last person to win the jackpot was Marcia Adams of College Park, Ga., who won $72 million on Jan. 24.
No one since has matched all six numbers, but people have won between $2 and $250,000 for matching some of their ticket numbers to those drawn.
The odds of winning the jackpot prize are 1 in 175 million, and Mr. Roogow and Ms. Otto said they are fairly confident that someone will win the jackpot Friday.
Their reasoning is that about 66 percent of the potential combinations were played Tuesday, and with more people playing their odds for Friday's drawing, "we'll probably be well into 90 percent of the combinations," Ms. Otto said.
"There will still probably be some numbers that are not played, but we know the more people play, the greater the chances," she said.