Redskins face tough queries in bid for injured Manning
A handful of NFL teams, including the Washington Redskins, face an interesting quandary now that the Indianapolis Colts have terminated Peyton Manning's contract.
The Redskins, New York Jets, Miami Dolphins, Seattle Seahawks, Arizona Cardinals and others are expected to recruit one of the greatest quarterbacks in NFL history. Any franchise interested in signing Manning, though, must consider the fact that he still is recovering from a series of neck surgeries he had in 2011.
"I'm throwing it pretty well," Manning told reporters Wednesday at a news conference in Indianapolis announcing his departure from the Colts. "I still got some work to do. I got some progress to make, but I've come a long way."
The third-ranked quarterback on the all-time list of touchdown passes and passing yards is available for any team to sign. But there's a significant catch, as he missed the entire 2011 season and his health status remains unclear.
Manning, who turns 36 this month, has spent the winter trying to strengthen his throwing arm by participating in a passing and rehabilitation program in North Carolina and in South Florida. His success in that ongoing process will shape the final years of his storied career.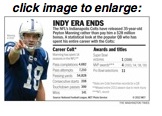 "Everybody knows Peyton Manning is, if not the best quarterback to ever play the game, he's tied for it," Redskins offensive coordinator Kyle Shanahan said in January on ESPN980 radio. "The question on Peyton is his health.
"You have a guy like that who is so driven, so passionate about football and truly enjoys it and the way he plays. I know he's up there in age, but if he's healthy, age is not an issue. You just hope his neck is all right, and then he'll be Peyton Manning."
Manning never missed a game in 13 seasons prior to 2011. His ability to read defenses, his timing and his accuracy helped him win four league MVP awards and a Super Bowl championship.
Whether he can recapture that form remains uncertain. He was asked Wednesday whether he feels like his old self.
"I'm feeling closer and closer," Manning said. "I have to remind myself that it is March. I have a hard time doing that at times. Like I said, I still have some work to do, but I'm looking forward to doing that work and keep making progress."
Manning told reporters that he hadn't thought about where he will continue his career, and his agent did not return requests for comment Wednesday. That question promises to dominate the headlines until he chooses a team.
Manning and Colts owner Jim Irsay spoke Wednesday about Manning's desire to join a Super Bowl contender, which would seemingly put the Redskins at a disadvantage. Washington is coming off four consecutive last-place finishes, including a 5-11 record in 2011.
One reason for that is a dearth of playmakers on offense. Other suitors such as Miami and the New York Jets have more formidable supporting casts in place. The Redskins, however, have approximately $40 million of salary cap space with which to add talent this offseason.
"I'm not sure that Washington has the assets currently that would be attractive to Peyton Manning," former Super Bowl champion coach Brian Billick said Wednesday on NFL Network.
There's also the question of how Manning and Redskins coach Mike Shanahan would coexist. Manning was known in Indianapolis for taking initiative to run practices and call plays. Shanahan demands an even greater level of control over the organization.
Redskins decision-makers, however, believe the partnership would be healthy, with Mike and Kyle Shanahan willing to defer to Manning because of his track record and the Redskins' desperate quarterback situation.
Before all of that is sorted out, though, there's the matter of Manning's fitness.
"If he can recover," Kyle Shanahan said in January, "and the doctors say he's healthy, he says he's healthy — that's enough for me."
© Copyright 2014 The Washington Times, LLC. Click here for reprint permission.