Maggie Evans, of the richest family on the block, can never go home. A clowder of feral cats roams the front yard. In the past two years, there have been five homicides within 1,500 feet of the house she once gave that name: Home, for her, no longer exists.
The trees are the same. "Trinidad Avenue was a really pretty avenue, because it had trees arched over it, like you were going through a tunnel," Mrs. Evans said.
It's been awhile — 72 rings on those trees — since her father made a whopping $2,394 a year working as a repairman for Pepco alongside her grandfather, who lived across the street. The sum was more than his brother, a Department of Veterans Affairs lawyer who rented half the house from him for $28 per month, made.
INTERACTIVE MAP: Find your home in 1940.
"Oh, I wouldn't go near that neighborhood now," Mrs. Evans, 89, said of the crime-riddled but improving section of Northeast where she lived in 1940. Now, on one side of her old now-vacant home, a single mother of four contributes $275 toward her row house's $1,100 monthly rent, with government assistance covering the remainder.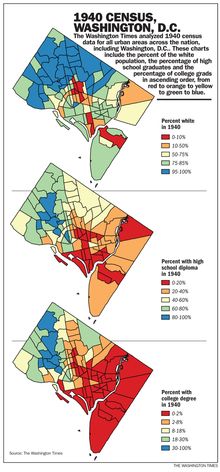 If she were to visit, though, she might find less has changed than meets the eye. On the other side of the block, three homes are owned by branches of one family — just like the Evanses. Residents say that's still common in this neighborhood.
Nancy McDowell wound up a mile away and worlds apart from where she was in the spring of 1940 when U.S. census takers visited her home in what was then the frontier of upper Northwest. In 1937, her gas station-owner father erected a house on 36th Street off of Connecticut Avenue, and Ms. McDowell stayed there until she moved to a retirement home on that same artery.
Just 17 at the time of the census, she was the youngest of three children, all of whom lived at home. Everyone on the surrounding blocks was white, except for three black women who lived as cooks and servants in exchange for $300 annually.
"It was a small town. It was just beginning to grow at that time," she said. Upper Northwest "was considered country," and relatives could be lured there for visits only with the promise of nice dinners.
As she stayed put, the city moved around her.
That $18,000 home is now worth more than $1 million. When the current residents, sales executive Michael Young, his lawyer wife and their three daughters purchased it from Ms. McDowell, they found that it came with a 400-pound cast iron "master cylinder" to a mill the McDowells ran before they got into gas stations. "Grain was the fuel of that time, for the horses," Mr. Young noted.
Handwritten ledger
This year, the actual 1940 U.S. Census forms, listing every American's name, occupation, address and income on a handwritten ledger, were released after a 72-year privacy period — a law instituted at a time when no one was expected to live that long. It is the first time any year's census forms have been posted online, allowing anyone to search for relatives or their homes' histories.
The result is a vivid portrait of a seminal but long-extinguished moment in the history of the national capital region. The coming world war changed the United States, but in Washington, 1940 marked the tail end of a recession and the final moments before an influx of government and military personnel that forever transformed the region from a small town to what it is today.
"There were different neighborhoods: Petworth, Northeast, Chevy Chase. Everybody took care of one another within them. If someone in my family got sick, all the neighbors would come with Jell-O or chicken soup. What changed it all was when new people came in to work for the War Department. It lost its closeness," said Mary Teresa Kane, who lived with her grandparents and mother in a $9,000 house in Petworth. Her father died from injuries sustained as a D.C. firefighter.