Prince George's County issued 200,000 speeding tickets to lead-foot drivers under its eight-month-old Automated Speed Enforcement Program, a number that county officials said is good for safety — but critics argue only benefits the bottom line.
The program, which boasts 40 portable speed cameras, was established to curb speeding around schools and higher-education centers. The cameras are turned on from 6 a.m. to 8 p.m. on weekdays, and according to Maj. Robert Liberati, commander of the county's forensic science division, as of March have earned the county about $3.2 million in revenue.
"We're starting to make an impact," Maj. Liberati said. "Eventually, we'll run out of locations. I think the mark will be made. The number of citations will drop, and hopefully, we'll have made a dent in the statistics."
By this time last year, county police had already investigated 22 driving fatalities. This year, there have been 12.
Drivers need to remember that the county is an urban area, Maj. Liberati said.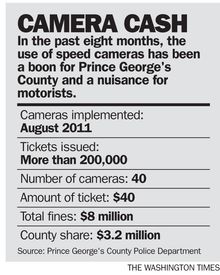 "We're not talking about a road out in the desert where if you run off the road you wouldn't do any damage."
The county will say people shouldn't be speeding, "and that's true," AAA spokesman John B. Townsend said. But at the same time, "we believe speed cameras should be about decreasing dangerous driving behaviors and habits, not providing local jurisdictions supplemental revenue."
Mr. Townsend drew comparisons to neighboring Montgomery County and the District, both of which have larger populations and fewer restrictions on their cameras.
Last year, Montgomery issuedaround half a million tickets, equal to roughly $13.3 million. The District slapped more than 225,000 tickets on fast drivers, worth about $30 million.
Maj. Liberati said the total amount of money from the citations is $8 million, but the county doesn't see even half of that amount.
Each ticket is for $40, and between 62 percent and 65 percent of drivers pay the fine. The vendor that provides the cameras gets a 37 percent slice of each ticket that is paid.
In the months since the enforcement program was launched, schools have seen a significant drop in speeders, Prince George's County Public Schools spokesman Briant Coleman said.
"We've seen vehicles decrease in their speed, including at schools without the cameras," Mr. Coleman said. "We're pleased it allows for a safer environment for our students and staff. I think that has always been a concern for our school communities."
The cameras were launched in the latter half of August 2011, followed by a 30-day warning period for drivers.
According to an earlier story in The Washington Times, the first month the county used Optotraffic cameras, more than $500,000 in tickets were issued to drivers.