More than a dozen camera shutters click-clacked on the sideline Sunday morning as Robert Griffin III practiced taking snaps from center at the Washington Redskins' rookie minicamp. Coach Mike Shanahan watched from the opposite sideline. He has his franchise quarterback. Now he must figure out how to use him.
That process began during five practices over the past three days, when Griffin made his Redskins practice debut. He already is the team's first-string quarterback — Shanahan said so Sunday. Now Shanahan has embarked on the process of tailoring the offense to Griffin's scintillating skill set.
"One thing that the NFL is not used to is a quarterback with his type of speed and his type of throwing ability," Shanahan said, twinkle in his eye. "I think we can do some things that people haven't done."
The normally-stern Shanahan was practically bubbly after spending three days with his new quarterback. All his troubles over the past two seasons with Donovan McNabb, Rex Grossman and John Beck seemed miles away with the reigning Heisman Trophy winner at his disposal.
Shanahan gushed about Griffin's combination of elite speed and arm strength. Griffin already is ahead of the schedule at which he should learn the playbook, Shanahan said. He envisions a game-changing player who will challenge defenses in unprecedented ways.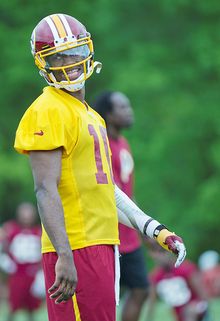 The possibilities are intriguing, to say the least, given Shanahan's track record of designing offenses. He could hardly contain his excitement.
"I really believe he can make any throw on the field," Shanahan said. "He does a great job in the pocket looking downfield, not looking at the rush. No. 2, he fits into our system perfectly because we like to run play-action, quarterback keeps, bootlegs. With his speed, he can get on the edge and do things most quarterbacks can't do."
More than 50 media members attended practice, at least twice the amount in a normal year. Griffin handled the occasion with the aplomb we've come to expect since the Redskins traded three first-round draft picks and a second-rounder to position themselves to select him.
He seamlessly mixed self-deprecation with confidence and humor, showing off the personality that has endeared him to so many who have worked with him before he arrived in Washington.
"You have to know what the expectations are," Griffin said. "Whenever you're playing quarterback, you get all the praise and all the blame. You've got to be ready to handle that."
On the field, Griffin showed why the Redskins so aggressively moved to acquire him. He also provided reminders that he is an NFL rookie.
He was extremely quick during footwork drills, much smoother than quarterbacks Jonathan Crompton and fourth-round rookie Kirk Cousins. His arm was noticeably stronger, too.
He connected with West Virginia receiver Devon Brown, a tryout player, for a long completion on a seam route against a zone. He later zipped a pass to receiver Aldrick Robinson on an out route near the left sideline.
Griffin also overthrew a tight end on a quick in route and overthrew Michigan State tryout player Keith Nichol on a deep ball. Griffin was indecisive on a checkdown to the running back, and the ball came out of his hand awkwardly and fell incomplete.
"Just trying to get my feet correct and make sure my base is always right, whether I'm hitching to the first reach, second read or third read," Griffin said.