Top lawmakers on Capitol Hill are challenging the U.S. military to rethink how it classifies terrorist attacks on U.S. soil after the Defense Department decided the 2009 attack at Fort Hood and the attack on a recruiting office in Arkansas were domestic killings rather than flash points in the global war on terrorism.
Those classifications mean the dozens who were wounded or killed at Fort Hood, Texas, and those killed or injured in Little Rock, Ark., were not eligible for Purple Heart medals — a ruling that House Homeland Security Committee Chairman Peter T. King and Senate Homeland Security and Governmental Affairs Committee Chairman Joe Lieberman want to change.
They have introduced legislation that would allow domestic attacks on service members to be reviewed the same way as international terrorist attacks when it comes to awarding the Purple Heart, which is the military's decoration for troops wounded or killed while in combat zones.
"We must face the reality that radicalized individuals and groups within the United States have targeted and will continue to target our men and women in uniform," Mr. Lieberman said, adding that awarding the Purple Heart must be updated to reflect that reality.
The two 2009 cases have put a fine point on the debate.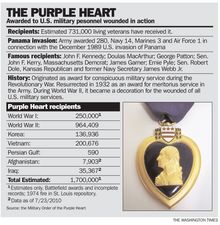 Maj. Nidal Hassan, a former Army psychiatrist, stands accused of having killed 13 people and wounding another 32 at Fort Hood in November 2009. He could face the death penalty if convicted in the trial, in military court.
Meanwhile, Abdulhakim Muhammad is serving life imprisonment after pleading guilty to killing one soldier and wounding another in a drive-by shooting at a military recruiting center in Little Rock in June 2009.
In both cases, the men have claimed ties to al Qaeda, but the military has declined to classify their attacks as tied to international terrorism.
Getting the government to recognize the domestic incidents as part of the war on terrorism has been a special mission for Daris Long, a retired Marine chief warrant officer whose son, Army Pvt. William Andrew Long, was killed in the Little Rock shooting.
Mr. Long said military rules aren't written to accommodate the realities of war in the 21st century.
"We always fight the last war, but here you are fighting a war for 10 years, you're not fighting against a national government. I would venture to say if you went in and looked at all the regulations [the Defense Department] has, they're primarily towards fighting a war against another country," he said. "We invented 'enemy combatants' because we didn't have a term that was palatable to both sides of the aisle for what these guys were."
The Pentagon didn't return a message seeking comment on the legislation Wednesday, but it has taken fire from a number of members of Congress who said the two shootings should fall within the definition of terrorism.
Instead, Mr. Long said, they've been minimized: the Arkansas shooting as a drive-by, and the Fort Hood shooting as workplace violence.
John Stovall, director of national security and foreign relations at the American Legion, said his group hasn't taken a position on whether the Fort Hood and Little Rock shootings should qualify as terrorism, but that the current system gives the Defense Department the flexibility it needs to make judgments.
"Our feeling is that the guidelines are clear," he said. "If somebody is hurt or killed in a terrorist attack, then they deserve a Purple Heart. It depends on who defines what an act of terrorism is."