As Israeli artillery and aircraft relentlessly pound Gaza, Palestinians and their supporters are trying to strike back — in cyberspace, by launching Internet attacks on Israeli websites.
The attacks show how cyberspace has become the new battleground. Israel's military and Hamas terrorists already have engaged in a war of words on Twitter.
But the cyberassault, under the umbrella of the leaderless hacker collective Anonymous, appears to be having little impact on the Israeli government's Web presence. It appears to have taken down only sites belonging to small businesses and individuals, including pro-Israel bloggers in the United States.
Israeli Finance Minister Yuval Steinitz told reporters over the weekend that operation "Pillar of Defense" — the Israeli military code name for the offensive in Gaza — now had "a second front of cyberattacks against Israel."
Mr. Steinitz said that in the past four days, Israel had "deflected" 44 million attacks on government websites. "All the attacks were thwarted except for one," which took a targeted website offline for six or seven minutes, he said.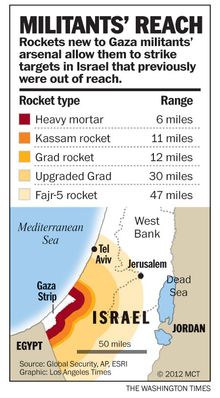 He did not name the affected site or give details about the nature of the attacks. Neither his spokesman nor the Israeli Embassy in Washington responded to a request for clarification.
The minister credited Israel's investment in hardening its computer infrastructure.
"We are enjoying the fruits of our investment in recent years in developing computerized defense systems," he said. "This is an unprecedented attack, and our success has been greater than we anticipated."
The attacks began last week, after a call issued in the name of Anonymous.
A statement posted online, couched in the group's trademark fiery rhetoric, said: "When the government of Israel publicly threatened to sever all Internet and other telecommunications into and out of Gaza they crossed a line in the sand."
"We are ANONYMOUS and NO ONE shuts down the Internet on our watch," the statement declared.
Like all Anonymous "operations," as the hackers label their protests, this one was given a name, #OpIsrael. The attacks were coordinated via Internet chat rooms called channels.
The Finance Ministry said there typically are a few hundred hacking attempts a day on Israeli government sites. The 44 million attacks in the four days since #OpIsrael started represents a massive growth in the cyberassaults.
"The [Anonymous] channels were packed," said Gabriella Coleman of McGill University in Montreal, who studies the hacker subculture and keeps abreast of the ongoing online conversation within Anonymous.
"There was tons of a support" for #OpIsrael," she said.