America's abortion rate fell 5 percent in 2009 in the largest single-year drop seen since the federal government started tracking data on the procedure.
The national tally also fell below 800,000 for the first time, the Centers for Disease Control and Prevention (CDC) said in its annual Abortion Surveillance report, issued in Wednesday's Morbidity and Mortality Weekly Report.
The CDC report is based on data from 48 jurisdictions, including Washington, D.C., and New York City. However, California, Delaware, Maryland and New Hampshire did not report data.
In 2009, some 784,507 abortions were reported, compared with 825,564 in 2008. The abortion rate also dropped, from 15.9 abortions per 1,000 women of reproductive age to 15.1 abortions per 1,000 women.
Although the number and rate of abortions have been declining since the 1980s, these were the steepest declines seen in a single year, said the CDC, which began conducting abortion surveillance on legal abortions in 1969.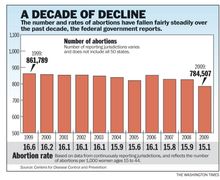 There are many possible reasons for the declines in abortion.
Pro-choice groups point to expanding use of contraceptives, including highly reliable products such as oral contraceptives, long-lasting hormonal products and intrauterine devices, or IUDs.
Use of contraceptives likely will keep growing: President Obama's Affordable Care Act already requires private insurers to provide birth control for free, and the American College of Obstetricians and Gynecologists this week recommended that oral contraceptives be sold over-the-counter, like condoms and pregnancy tests.
Another potential reason is the decline in the number of abortion providers.
By 2005, the number of places providing abortions fell from nearly 3,000 to 1,800, meaning "that 87 percent of U.S. counties lacked an abortion provider," Rachel K. Jones and Kathyrn Kooistra wrote in a 2011 Guttmacher Institute report on U.S. abortion incidence.
"Extreme acts of violence against abortion providers" may also result in fewer providers, they wrote, citing the 2009 murder of Dr. George Tiller in Kansas.
Laws regulating abortion clinics are also a potential factor — a new Mississippi law, for instance, threatens to shutter the state's only abortion clinic unless all its staff acquire local hospital-admitting privileges.
Other laws potentially reducing abortion include those requiring women to undergo pre-abortion ultrasounds, which could dissuade them from having the procedure; disallowing most abortions for pregnancies that are 20 weeks along or older, owing to the likelihood the fetus would feel pain in the abortion; and requiring physicians to be in the same room while prescribing drugs to induce abortions, thus squelching the use of "distance" abortion or telemedicine.
Pro-life groups say abortion is decreasing in part because more people are identifying themselves as pro-life.
Polling data show that Americans are embracing life — they are celebrating motherhood and parenthood, and "see a baby as a blessing" — and that trend is why abortions are declining, said Kristi Hamrick, a spokeswoman for Americans United for Life.