Stung by their election defeat, Republicans are eager to try to woo Hispanic voters, arguing that once their party puts immigration reform behind them, the ethnic group will be open to the GOP's conservative message.
But an analysis of economic and social data suggests that even outside of immigration, native-born Hispanics, who make up the vast majority of such voters in the U.S., have far higher rates of welfare use, single-parent households and low tax liabilities — all factors that usually indicate a better fit with the Democratic Party than with Republicans.
One in 5 households headed by U.S.-born Hispanics are in poverty, compared with just 10 percent of non-Hispanic U.S.-born white households, and 40 percent of the Hispanic households use at least one major welfare program — twice the rate of white households.
They are only half as likely to be self-employed, and 50 percent of their households with children are single-mother homes, compared with just 29 percent of native-born white homes.
"The underlying demographics make this a population that's a tough sell for the Republican message," said Steven A. Camarota, research director at the Center for Immigration Studies, who crunched the demographic numbers from the U.S. Census Bureau.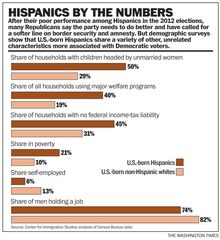 Many in the Republican Party, debating how presidential nominee Mitt Romney lost what they thought was a winnable election, blamed his strict immigration stance, saying it's the chief reason why he won just 27 percent support from Hispanics en route to losing Florida, Ohio, Virginia, Colorado, New Mexico and other swing states.
Prominent Republicans said the party must embrace a path to citizenship for illegal immigrants, and House Speaker John A. Boehner said the party will tackle comprehensive immigration reform.
His chamber will take the first step this week, voting on a bill to grant more green cards to would-be immigrants who graduate from U.S. universities with doctoral degrees in science, math and technology fields.
Conservative commentators such as columnist Charles Krauthammer have called for the Republicans to legalize illegal immigrants, arguing if the party can get past that issue, it can tap into what "should be a natural Republican constituency."
Current and former Republican officeholders echoed that call, saying the party must find ways to reach out to a demographic they argue is overwhelmingly Catholic, socially conservative and pro-entrepreneurial.
Those who study the numbers, though, say that's a fantasy.
"It turns out that Latinos are systematically to the left of whites on an entire array of economic-policy matters," said Gary M. Segura, a political scientist at Stanford University and a principal in the polling firm Latino Decisions.
He said that while it's true that Hispanics are more conservative on abortion — about 38 percent identify themselves as pro-choice, versus about 48 percent of all Americans — that's not an overwhelming difference. On gay marriage, Hispanics are becoming increasingly supportive.
And even though they may be more religiously observant, they are overwhelmingly opposed to mixing religion and politics, which means social conservatism may not translate to the ballot box. Indeed, family values rarely rate highly when Hispanics are asked what voting issues are important to them.
Mr. Segura said that Republicans should still be doing better among Hispanics and that putting away the immigration issue could help.