House Speaker John A. Boehner offered the first olive branch Wednesday in what is expected to be a frenetic spate of postelection deal-making to avert the looming "fiscal cliff," saying the GOP will let the government collect more tax revenue if President Obama will drop his plan to raise tax rates on the wealthy.
Voters on Tuesday re-elected Mr. Obama and expanded Democrats' majority in the Senate, while keeping Republicans in charge of the House — albeit with fewer numbers.
With the needle tilting slightly but decidedly toward Democrats, Mr. Boehner's overture sets the stage for the lame-duck session of Congress, which begins next week, and for the full 113th Congress, which opens in January.
"By working together and creating a fairer, simpler, cleaner tax code, we can give our country a stronger, healthier economy. A stronger economy means more revenue, which is what the president seeks," the Republican speaker said.
A day after the election, leaders on all sides said the message they took from voters was that Congress and the White House must work together to find a solution to the tax increases and automatic spending cuts that are looming in early January.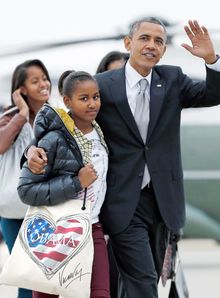 "I know how to fight. I know how to dance. I don't dance as well as I fight, but I'd much rather dance anytime," said Senate Majority Leader Harry Reid, a Nevada Democrat who said he approached negotiations with an open mind and wouldn't draw any lines in the sand.
Still, the outlines of stalemate were emerging.
Mr. Reid said he read Tuesday's election as a mandate for raising taxes on the wealthy — something Mr. Obama ran on as a centerpiece of his campaign.
"Look at all the polling. The vast majority of the American people — rich, poor — everybody agrees that the rich — richest of the rich — have to help a little bit," Mr. Reid said.
Mr. Boehner, though, said Republicans in the House won't accept increases in tax rates. His own proposal relies on cutting out tax loopholes, which would bring in more revenue, then using that money to lower income tax rates for everyone. He argues that the resulting tax code would be better for economic growth, which he said would produce more money for the federal government in the long run.
Missing from the public conversation Wednesday was Mr. Obama, who is once again the key player in negotiations. He placed private calls to Mr. Reid and Mr. Boehner, as well as Senate Minority Leader Mitch McConnell and House Minority Leader Nancy Pelosi, in which he pleaded for a "balanced" approach to cutting the deficit.
But Mr. Obama did not make any public statements, instead leaving Vice President Joseph R. Biden to talk with reporters.
"On the issue of the tax issue, there was a clear, a clear sort of mandate about people coming much closer to our view about how to deal with tax policy," he said, adding that he expects "some real soul searching" on the part of Republicans to decide where they are willing to cooperate.
Part of the problem is that the tools for cutting big deals in Congress have calcified in recent years, and would need to be restored. The Senate hasn't passed a budget in three years, and House Republicans this year have run into trouble in trying to pass big legislation such as the farm bill. Each side seems to have concluded that dealing with the other is tantamount to political death.
Mr. Biden said one way to do "a little confidence building" between the two sides was to tackle something easier. He said that could come on corporate tax rates, which all sides agree are too high and riddled with exceptions.