Fresh from decisive losses in seven of Maryland's eight congressional districts and its worst performance ever in a U.S. Senate race, the Maryland Republican Party is searching for answers to stop its slide into irrelevance in the increasingly deep-blue state.
The party lost one of its two congressional incumbents Tuesday when Rep. Roscoe G. Bartlett was defeated in a heavily gerrymandered district, leaving incumbent Rep. Andy Harris as the party's sole representative in Congress.
Also Tuesday, voters approved ballot initiatives to legalize same-sex marriage and give in-state tuition to some illegal immigrants, despite heavy opposition from conservatives.
Acknowledging that they are heavily outnumbered in the D.C. suburbs and Baltimore, prominent Republicans say their best bet going forward is to build from the ground up in the rest of the state — strengthening support and fundraising in conservative areas, cultivating county leaders and working to topple Democrats in moderate districts of the General Assembly.
"With these demographics, it's a very difficult sell for any GOP candidate," former Gov. Robert L. Ehrlich Jr. — the state's only Republican governor since Spiro Agnew held the office in 1969 — said Thursday. "It's about being smart and running good races where you can win. There's not much that can be done with the congressional districts; [Democrats] have them pinned."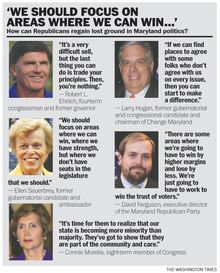 In Maryland, Republicans make up 26 percent of registered voters, compared with 56 percent who are Democrats. Seventeen percent of voters are unaffiliated.
Democrats hold a 98-43 advantage in the House of Delegates and a 35-12 edge in the state Senate. Its congressional delegation will have a 7-1 edge in the House of Representatives next year. As recently as 2003, the split was 4-4.
Democrats also hold both U.S. Senate seats after incumbent Sen. Benjamin L. Cardin won re-election Tuesday with 55 percent of the vote in a three-candidate race.
Dan Bongino carried 27 percent, the worst-ever Republican showing for one of Maryland's U.S. Senate seats and a tie for the second-lowest Republican vote percentage for any U.S. Senate seat on Election Day.
Republicans say Democrats' statewide dominance comes from their popularity in urban areas, and they point out that the Republican Party controls a majority of elected positions in parts of Western Maryland, Southern Maryland and the Eastern Shore.
State GOP Executive Director David Ferguson said his party's main priority going into the 2014 state elections and House midterms will be to rally support and drive voter turnout in Republican strongholds.
"There are some areas where we're going to have to win by higher margins and lose by less," he said. "We're just going to have to work to win the trust of voters."
Ellen Sauerbrey, a former Republican delegate who lost two races for governor in the 1990s, said the party should stick to its themes of limited government and social conservatism rather than softening them to appeal to more voters.
"I don't think the party should abandon its principles," she said. "We've got to convince people that their opportunity and path in the future is a job and a growing economy, and not a welfare check."
But other Republicans say the party must widen its tent and reach out to more voters if it is to remain viable.