BOCA RATON, Fla. — Mitt Romney accused President Obama of failing to protect the military from budget cuts and squandering U.S. leadership in the Middle East, leaving America standing by as al Qaeda has surged to become active in a dozen countries, as the two men faced off Monday night in their final debate.
Mr. Obama, meanwhile, repeatedly accused the Republican nominee of being an amateur on foreign policy — the subject of the night's debate — and touted his own credentials, including overseeing the mission that killed Osama bin Laden and committing U.S. planes to a no-fly zone that aided Libyan rebels.
"I know you haven't been in a position to actually execute foreign policy, but every time you've offered an opinion, you've been wrong," Mr. Obama said.
"Attacking me is not an agenda," Mr. Romney retorted.
The foreign policy-focused debate served to highlight just how little daylight there is between the two men on the big basic foreign policy choices, ranging from handling the civil war in Syria to unequivocally backing Israel to using drones to attack terrorist targets to trying to halt Iran's nuclear ambitions.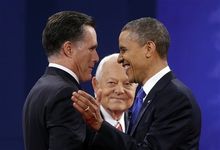 Mr. Romney even said he backed the same 2014 timeline Mr. Obama has laid out for withdrawing troops from Afghanistan — a matter where he'd tried to draw distinctions in previous remarks.
At one point, Mr. Obama said the key difference between the two candidates was that Mr. Romney embraced the Obama administration ideas, "but you'd say them louder."
But Mr. Romney argued they differ in the overall tenor and tone they would take toward using U.S. leadership around the world, particularly in confronting radical Islam and al Qaeda.
"We can't kill our way out of this mess," Mr. Romney said, in the debate at Lynn University in Boca Raton, as he sought to draw distinctions between himself and Mr. Obama, saying the U.S. must take more leadership to try to push the Muslim world toward moderation. "We must have a comprehensive strategy to help reject this kind of extremism."
He again accused Mr. Obama of making "an apology tour" in the Middle East to express regret for past U.S. actions.
"In those nations and on Arabic TV, you said that America had been dismissive and derisive. You said that, on occasion, America had dictated to other nations. Mr. President, America has not dictated to other nations. We have freed other nations from dictators," Mr. Romney said.
But the president called the claim that he's apologized "probably the biggest whopper that's been told during the course of this campaign."
Mr. Obama led off the debate by defending his decision-making concerning Libya, where a terrorist attack on the American consulate in Benghazi left four Americans dead, including the U.S. ambassador.
But that issue produced none of the fireworks from last week's debate.
Instead, the president turned his fire on Mr. Romney, questioning what his foreign policy really is.