Far from being a pauper, Sesame Workshop, the company that produces the beloved children's television program that has become an unlikely point of partisan bickering in the presidential campaign, has put away more than $100 million in investments, including more than $20 million in hedge funds and $9.7 million in a private equity fund.
PBS, the partially publicly funded network that broadcasts "Sesame Street" and its marquee character Big Bird, has come under fire from Republican presidential nominee Mitt Romney, who says the government cannot afford to support it anymore. President Obama has leapt to Big Bird's defense on the stump and in campaign ads.
But according to its 2010 tax returns, the nonprofit Sesame Workshop had so much untaxed earnings from royalties, video sales and merchandising that it had $110 million in investments, including the hedge fund and private equity fund. Big Bird also has some offshore nest eggs. At least some of the income from Sesame Workshop's hedge-fund investments, which would have been taxable if derived from domestic funds, goes untaxed because it was generated by offshore affiliates of such funds.
Daryl Mintz, Sesame Workshop's chief financial officer, defended the New York-based production company's investment portfolio, telling The Washington Times that the nonprofit firm reinvests all of the profits from sales of its products back into educational programming for children.
"Sesame Workshop puts all of the revenues generated from its programs and licensed products back into the development and production of educational programs for children," he said.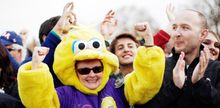 The investments are not unusual for big nonprofit organizations, analysts said.
"It's actually pretty common among nonprofits," said Marcus Owen, a lawyer at Caplin and Drysdale who previously served as director of the tax-exempt organization division at the Internal Revenue Service. "You'll find it really common among universities and pretty common among larger foundations. It's part of modern portfolio management."
In one of the most memorable moments from his first debate with President Obama, Mr. Romney argued that the U.S. government can no longer afford to subsidize public broadcasting, despite his personal affection for Big Bird, given the size of the federal deficit.
"I like PBS, I love Big Bird," Mr. Romney said. "But I'm not going to keep on spending money on things to borrow money from China to pay for.
Reform in the works?
With lawmakers promising a major overhaul of the tax code next year and hunting for tax breaks to cut, members of both parties have begun to look at whether the law is too lenient toward tax-exempt organizations, especially those that provide goods and services that seem more commercial than charitable.
Sesame Workshop gets $1.5 million from the Corporation for Public Broadcasting, the federal agency that oversees PBS, and receives $6.7 million from other agencies for producing another show, "The Electric Company," and for work on several other initiatives, including trying to help children develop healthy habits.
But its biggest boost comes in the form of its preferred tax-exempt status for purposes of federal tax law.
According to its 2010 tax return, the Sesame Workshop received $133 million in income, $46 million of which was from tax-free royalties presumably on all its toys, T-shirts and paraphernalia.
Some tax analysts argue that broad tax exemptions are giving groups like Sesame Street an unfair advantage over for-profit companies such as Nickelodeon or Disney.