The voice on the line was warm, proud, reassuring, a voice that holds your hand and looks you in the eye.
"Barack Obama," it said, "wants to be your president."
The voice on the line is disdainful, incredulous, slightly sneering, a voice that rolls its eyes and spits in your soup.
"Barack Obama," it said, "wants to be your president?"
Two voices, representing two competing visions for partisan America? Not quite. Both voice belong to Dude Walker, a New York-based professional voice actor who frequently does political advertising work.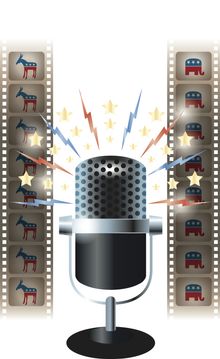 "To support Obama, I emphasized 'your' for trust and connection," Mr. Walker said. "To attack him, I went up in register. Like, 'Bleh, imagine the nerve of the guy.'"
Mr. Walker laughed.
"You can say the exact same line different ways, and it can mean different things," he said.
With the electoral calendar nearing its climax — and a close presidential race coming down to a handful of hotly contested swing states — 'tis the season for campaign ads. With a deluge of messaging, positive appeals and vicious attacks, all aimed at persuading, well, persuadable voters, each spot needs a voice.
According to Kantar Media's Campaign Media Analysis Group, campaigns and outside groups are expected to spend more than $3 billion on television ads alone this year — up from $2.1 billion in 2008 — while battleground-state cities such as Las Vegas reportedly have been bombarded by more than 73,000 spots.
The upshot? People in Mr. Walker's line of work are really, really busy.
"You can get very busy in January or February of a general election year, but the load starts to build around Labor Day," said Sheldon Smith, a longtime voice actor for Republican candidates and causes. "In late October, it would not be unusual for me to do 20 to 25 spots a day. That's not every day. Some days, I'll do two. When you do voice-overs, you have to realize you have no control whatsoever over your own schedule. But that's not really a worry."
So what is?
"You try very hard to avoid catching a cold in the month of October," Mr. Smith said. "You just don't want to be around someone who's sick."
Aural flavor