PITTSBURGH — The Washington Redskins' defense knew exactly what to expect from the Pittsburgh Steelers' offense. No longer a run-it-down-your-throat team, the Steelers feature a heavy dose of Ben Roethlisberger throwing to a variety of weapons.
The Redskins' problem Sunday was that they knew what was coming and couldn't stop it. On the ground and in the air, the Steelers gashed Washington's defense to the tune of 355 yards in a 27-12 rout.
"It was a little frustrating because they seemed to have an answer for what we wanted to do a lot of the time," linebacker Ryan Kerrigan said. "That's a feather in their cap they were able to do that today. We just didn't make the plays we needed to make, and they were able to make them."
Having no answers started early as Roethlisberger marched his team 76 yards down the field for a touchdown on the opening drive of the game. By the time the first quarter was over, it was 10-0 and Robert Griffin III and Co. on offense had plenty of ground to make up.
"They went down on us, we didn't respond, and I think that happened the whole game," linebacker Lorenzo Alexander said. "We were kind of lackluster in all three phases today, and when that happens you're going to get your butt whooped by a good team."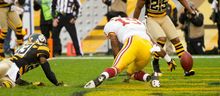 For most of this season, the Steelers haven't been that good in the running game. Without Rashard Mendenhall and Isaac Redman, it was all Jonathan Dwyer against the Redskins. He managed to put up 107 yards, just the second time Pittsburgh broke the century mark this season.
It was also the first time Washington allowed a 100-yard rusher this season. But part of that had to do with the Steelers building a substantial lead and eating up clock on the ground.
Middle linebacker London Fletcher pointed to big runs, such as a 34-yarder by Dwyer, as a bigger problem than the total yardage. Coach Mike Shanahan attributed that to missed tackles.
"That's a big worry. We can't have those," Kerrigan said. "Those obviously lead to big plays and those big chunk plays. You see what could be a 4- or 5-yard gain turn into an 11- or 12-yard gain. We definitely have to eliminate the missed tackles and get back to wrapping up."
Linebacker Rob Jackson called the missed tackles something of a personal responsibility issue.
"It's just something as a defensive player that you've got to do, you've got to take control of and you've got to be able to do," he said. "We'll get it right."
The Redskins defense didn't get much right against the Steelers, especially early on. Pittsburgh scored points on its first four drives and was forced to punt just three times.
Much of that was a credit to the Steelers being one step ahead with adjustments. Once the Redskins changed things up, Roethlisberger had another wrinkle to unveil. He wasn't sacked at all Sunday, and with plenty of time the two-time Super Bowl-winning quarterback picked the defense apart.
Though as much as Redskins players were willing to give the Steelers credit, it did come down to blown opportunities.
"We were in position to make tackles, had a couple of missed tackles to allow some big plays," Alexander said. "You've got to be able to sustain that and step up and figure out a way to win because 10-0 in this league doesn't mean you're going to lose the game."