It has been a long time since any Texas Democrat was relevant on the national stage — two decades or more since Gov. Ann Richards and San Antonio Mayor Henry Cisneros made their biggest splashes.
But a couple of young and very ambitious brothers, also from San Antonio, hope to change that next week at the party's national convention in Charlotte, N.C.
State Rep. Joaquin Castro, a member of the Texas House who is running for Congress, will introduce the convention's keynote speaker on Tuesday — his identical twin, 37-year-old San Antonio Mayor Julian Castro.
The Castros, both graduates of Stanford University and Harvard Law School, have shaken up the status quo of the Lone Star State's often-listless Democratic Party — but it's the mayor who has captured the attention of national party leaders.
"As mayor, Julian Castro has worked tirelessly to move San Antonio forward by building its economy from the middle out, not the top down," Los Angeles Mayor Antonio Villaraigosa, chairman of the Democratic National Convention, said in announcing Mr. Castro's high-profile speaking slot last month.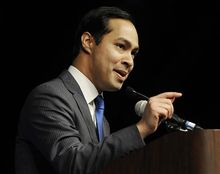 During a meeting at the White House in 2009, President Obama joked that he thought the boyish-looking Mr. Castro, then 35 and the newly elected mayor of the nation's seventh-largest city, was an intern.
"I thought he was on our staff … This guy's a mayor?" Mr. Obama said.
But the Castros are far from political neophytes: The sons of Rosie Castro, one of the most prominent leaders of the leftist La Raza Unida, the brothers have been immersed in San Antonio's Democratic machine since boyhood.
In a New York Times Magazine interview in 2010, the young mayor credited affirmative action for his education:
"Joaquin and I got into Stanford because of affirmative action. I scored 1,210 on my SATs, which was lower than the median matriculating student," he said. "But I did fine in college and in law school. So did Joaquin. I'm a strong supporter of affirmative action because I've seen it work in my own life."
In the same interview, Austin-based political strategist Mark McKinnon said "Julian Castro has a very good chance of becoming the first Hispanic president of the United States."
On his Facebook page, the young mayor, who has been compared to Mr. Obama, said he was inspired by the latter's 2004 speech to the Democratic National Convention.
"When Obama talked about the audacity of hope, I thought back to my mother saying that, 'If you didn't like the way things were, you could dare to change them.' I thought: 'My mother would like this guy.'"
On Saturday, the Castro brothers got a raucous send-off from supporters in their hometown, according to the San Antonio Express News.
The mayor said he plans to talk about San Antonio, which he described as a city that looks like "the United States of tomorrow," and he even took a little jab at Clint Eastwood and his address to the Republican convention.