The Race for the White House produces two things: lots of attack ads, and unwitting overnight celebrities. Think Sister Souljah. Joe the Plumber. Clint Eastwood's empty chair. The little boy who spelled "potato" without an "e," only to have Vice President Dan Quayle helpfully "correct" him.
With election season again upon us, The Washington Times continues a series remembering some of our favorite campaign one-hit wonders and asking: Where are they now?
Second: 1964's Daisy Girl

Then: A freckle-faced toddler, Monique Corzilius was the face of the most notorious attack ad in campaign history, 1964's "Daisy" spot. Aimed at Republican Barry Goldwater, who favored using tactical nuclear weapons in Vietnam, the commercial featured Monique plucking petals from a daisy and counting down from 10 — only to have her image and voice replaced by a male countdown and a nuclear mushroom cloud. A President Johnson voice-over then intoned, "These are the stakes. To make a world in which all of God's children can live. Or, to go into the darkness. We must either love each other, or we must die."
Now: The 50-year-old Monique Luiz is a mother of two and lives in Arizona, where she works in finance. She did not see the ad until 2000, an experience she later told Newsweek left her shaking and teary-eyed.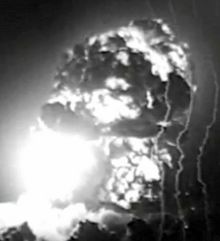 Fun fact 1: During a recent talk at Louisiana State University, Ms. Luiz said that when she first moved to Arizona, she avoided Goldwater department stores because "I felt he might recognize me."
Fun fact 2:Ms. Luiz was paid $105 for appearing in the ad, which aired only once because of the public furor.
Quotable:Ms. Luiz's parents didn't know what the ad was about until they saw it on television. "It was after the commercial aired that my parents received phone calls from their friends and family," Ms. Luiz said. "I remember them being very surprised and proud that I was actually on TV. My grandmother was very concerned because of some of the backlash. She was concerned for my safety."