American parents remain shellshocked by the Great Recession and worry about supporting their children, the weight of federal debt and the cost of college, said a survey released Wednesday.
The No. 1 issue — cited by 91 percent of nearly 2,200 U.S. parents — is the "lack of jobs that pay enough to support a family," said the survey from Parents magazine and Center for the Next Generation.
"Parents have some very, very serious concerns about being able to support their families in today's difficult economy, and they are demanding that government provide some help and some answers," said Matt James, president of the center.
The center believes "the U.S. must increase its investment in the next generation of kids," he said. Parents "want to hear from the candidates about how they're going to help families and their kids."
The survey, conducted in August by Hill+Knowlton Strategies' consulting partner Research+Data Insights, was released Wednesday in anticipation of the Oct. 3 presidential debate on domestic policy between President Obama and Republican presidential candidate Mitt Romney.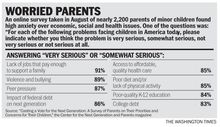 On Sept. 12, the U.S. Census Bureau reported that the median income for 72.5 million family households with minor children was $57,240, virtually unchanged from 2010. The poverty rate for these households was also unchanged, at 21.4 percent.
In contrast, in 2007, the year the country started to slide into recession, median income for these family households was $59,186 and the poverty rate was 17.6 percent.
The new survey found that money woes still held sway over parents. In addition to expressing high anxiety about jobs, federal debt and college costs, two-thirds of parents surveyed said they would rather have more money (an extra $10,000 a year) over an extra hour a day of "uninterrupted, quality time" with their children.
This was a significant finding because in previous surveys, many more parents chose time with their children over money, said Mark McKinnon, an executive at Hill+Knowlton Strategies, who discussed the survey in a media teleconference.
Other top parental concerns were relationship problems for their children, such as violence, bullying and peer pressure; poor diet, lack of physical activity or access to "affordable, quality" health care; and "poor quality" education. Parents had less concern over things such as access to preschool or child care, or pressure on children"to achieve too much at a young age," a researcher said.
"The well-being of kids is one of the most important, if not the most important, priorities for millions of parents in this country," said Jim Steyer, co-founder of the Center for the Next Generation and founder of Common Sense Media, a media education advocacy organization for families.
"But the political leadership in this country on both sides of the aisle have essentially ignored this issue for a decade or more. And the chickens are coming home to roost," Mr. Steyer said.