For years, the Washington Nationals and their fans waited for this day.
Sun splashed over their ballpark with bunting hanging from its facades. Awards recognizing the talent that made last season so special handed out en masse. A banner unveiling.
And their two phenoms on the same field performing the way they envisioned back when being favored to win a World Series was something meant for other teams. This is the year it's all supposed to come together for the Nationals, starting with their otherworldly ace and their fiery 20-year-old outfielder.
---
SEE ALSO: FENNO: Clint Romesha's quiet Opening Day tribute a reminder of true heroism
---
In the Nationals' 2-0 Opening Day victory over the Miami Marlins on Monday afternoon, Bryce Harper and Stephen Strasburg issued their opening salvo to the rest of the major leagues: We've arrived.
"You just sit back and watch it," said first baseman Adam LaRoche. "Let Harper and Stras go to work. They didn't need us. It was fun."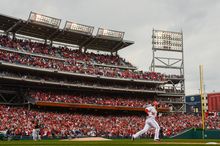 To be sure, they had help. Multiple sharp defensive plays and two scoreless innings of relief to close it out. But when Harper hits two home runs in his first two at-bats, and Strasburg tosses seven dominant innings, it's hard to focus on much else.
"You couldn't really have scripted it too much better," said right-hander Tyler Clippard. "Offensively I'm sure these guys would have loved to have scored 10 runs, but that's not going to happen every night. With Harp getting in there with a couple and Stephen pitching the way he did, it was really fun being out there."
Harper strode to the plate in the bottom of the first inning with two outs. He watched a split-fingered fastball from Ricky Nolasco go by. Then he crushed a curveball into the right-field seats and burst into the Nationals' dugout doling out high-fives so forceful third baseman Ryan Zimmerman playfully told him to ease up.
In his second at-bat, he did it again.
This one was a slider, a 3-2 pitch from Nolasco. It, too, went to the right-field seats.
"We're just laughing," LaRoche said. "I look at [manager Davey Johnson and bench coach Randy Knorr] and I'm like, 'Are you kidding me?' We shouldn't be surprised anymore with some of the stuff both of those guys have done, but you're just like, 'Wow.'"
Harper added a strike to home plate from left field in the seventh to start an inning-ending double play on the Marlins' only real threat of the afternoon.
"You just shake your head in amazement," center fielder Denard Span said. "You don't see that too often from anybody, period. But to see him, as a 20-year-old, it's like he's just writing a book. … I think he believes he can do anything and I think he shows that, too."
The 45,274 at Nationals Park, the largest regular-season crowd in the park's history, stood and cheered Harper at every opportunity. They roused him from the dugout for a curtain call, after he'd gotten the permission from veteran Chad Tracy to take it. They showered him with their praise the rest of the afternoon, the thought of what else this season could bring dancing in their minds.
"The first one was very cool," Harper said. "I think being able to share that with these fans, my family and this organization was a great moment. The second one I didn't really take full advantage of. It was over and I'm done. I think the first one really caught me. I was really excited."