Democratic governors with presidential aspirations have been tacking hard to the left, moving to legalize gay marriage and ban guns — and in the case of Maryland Gov. Martin O'Malley, ending capital punishment.
Those positions all poll well among the kinds of voters who will decide Democrats' 2016 presidential nominee, and analysts said governors who want to be a part of that conversation are taking note.
Already, New York Gov. Andrew Cuomo and Mr. O'Malley are engaged in a game of one-upmanship, with Mr. Cuomo moving to approve gay marriages and enact the nation's toughest gun ban and Mr. O'Malley following suit. But Mr. O'Malley took matters a step further in pushing to end Maryland's death penalty — a move Mr. Cuomo couldn't match, since that state's court system had effectively ended executions years ago.
"For all the years where people pointed to Republicans and said, 'They had an abortion litmus test and won't elect anyone who is not pro-life,' the reality is the Democratic Party now has a series of new litmus tests in regard to new candidates, and these governors want to make sure they have those boxes checked," said Todd Eberly, coordinator of public policy studies at St. Mary's College of Maryland.
Some analysts suggest that Mr. O'Malley, 50, and Mr. Cuomo, 55, could be taking a cue from President Obama, who has opened his final term in office by pushing for higher taxes on wealthy Americans, tighter gun control, same-sex marriage and a path to citizenship for the nation's estimated 11 million illegal immigrants.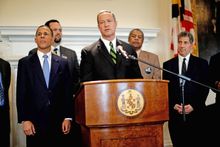 "Public opinion trends on these issues may have emboldened liberal governors to push certain issues more strongly in the current climate," said Mark J. Rozell, a political-science professor at George Mason University. "In so doing they can burnish their credentials nationally with the liberal wing of the party, which of course is so hugely influential in the presidential nominating process."
With nearly three years to go before the first primaries of the 2016 election, the biggest questions are whether former Secretary of State Hillary Rodham Clinton and Vice President Joseph R. Biden will choose to run. But Mr. Cuomo and Mr. O'Malley are waiting in the wings."Cuomo and O'Malley are feeding off what each other are doing and worrying about positioning for 2016," Mr. Eberly said. "They are hoping that Hillary Clinton and Joe Biden decide it is time to spend more time with grandchildren. So they are praying for Chelsea Clinton to start having kids."
Mr. Cuomo beat Mr. O'Malley to the punch in 2011 when he signed a bill legalizing same-sex marriage, a little more than six months after taking office. The following month, Mr. O'Malley came out to announce that he would sponsor legislation legalizing same-sex marriage in Maryland, and voters there approved it in a 2012 referendum.
Mr. O'Malley followed that vote with a 2013 State of the State address avowing that "climate disruption is real," calling on lawmakers to pass some of the strictest gun control laws in the nation, and asking them to replace the death penalty with life sentences and no chance for parole.
He also backs raising the sales tax on gasoline as part of a transportation plan.
Lis Smith, an O'Malley spokeswoman, said the governor has "never shied away from taking on the big issues of our time."
"Gov. O'Malley didn't pursue these policies because they were easy or popular, and he certainly didn't pursue them to get national chatter," Ms. Smith said. "He pursued them because they were the right thing to do."
Mr. Cuomo, meanwhile, took the lead on gun control, becoming the first governor to beef up his state's laws in the wake of the Newtown school shooting.In his State of the State address, Mr. Cuomo said "climate change is real," and said "we must lower the regional greenhouse gas emission cap." He also outlined a "Women's Equality" agenda that calls for a codification under state law of the Roe v. Wade ruling that abortion is a right, and for decriminalizing the possession of small amounts of marijuana.
He also has ushered a budget through his legislature that extends a higher tax on the state's top earners, raises the minimum wage and cuts rebate checks to thousands of families with children.
Steven A. Greenberg, a pollster at Siena College in New York, said Mr. Cuomo has been hard to pin down politically during his two years in office. He noted the governor pushed through same-sex marriage but also adopted a 2 percent cap on property taxes.