You wouldn't know it from the curb, but a three-bedroom Colonial on Martin Luther King Jr. Avenue in Southeast houses 12 businesses, all set up to receive contracts from Washington, D.C., under minority-contracting rules.
The house at 3215 MLK Jr. Ave. is the site of Congress Heights Community Training & Development Corp., but it also serves as a haven for small businesses many of which appear to be based outside the District that have received $3.5 million from the D.C. government in the past three years alone.
The District's laws to promote fairness among local, small and minority-owned businesses, known as Certified Business Enterprises, or CBEs, allow some to "game the system," said Mayor Vincent C. Gray, who is calling for reform.
---
SEE ALSO: Minority contractors 'game the system,' find havens in D.C. homes
---
Nearly 40 percent of the city's 1,200 CBEs share a location with other CBEs, according to data analyzed by The Washington Times, and a close look raises questions about whether occupants are actually based in the city and whether they are receiving public contracts without ever lifting a shovel or manufacturing a good.
On paper, Bocalje Services is based at 3215 MLK Jr. Ave. But Ernest Ezuma, the company's president, lives in Beltsville and has sold $1 million in medical supplies to the D.C. Fire Department as well as $890,000 in additional supplies to the city.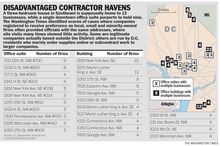 A review by The Times of CBEs that sell supplies showed that many, if not most, companies merely purchase goods from outside the District, mark up the price and resell them to the city.
Reached at his Maryland telephone number one afternoon, Mr. Ezuma said he is simply working within CBE rules to technically have an office in the District, but that business has been slow of late so he doesn't go there.
Trinity II Corp. has done $700,000 in business with the city since 2010, largely with the Department of Youth Rehabilitation Services. But owner Patrick McRae lives in Bowie, the company is incorporated in Delaware, and Mr. McRae's wife hung up the phone when questioned about the arrangement.
Custom Integrated Solutions, a firm with a rudimentary website, has provided $1 million in technology services for the District. Its owner, Gregory Flowers, also appears to live in Bowie.
Defenders of the program sometimes refer to such CBE havens as "incubators" because of cost-sharing arrangements for fledgling companies that cannot afford traditional office space and equipment.
Incubator concept
On a recent visit to the Congress Heights nonprofit, an employee said of the businesses, "We just rent out mailboxes to them." Just then, Monica T. Ray, the nonprofit's executive director and owner of the house, emerged and demanded to know why reporters were there asking questions. She grabbed one reporter by the arm and instructed her assistant to call police.
In a phone call, Ms. Ray defended the "incubator" concept and insisted that all 12 of her tenants have legitimate office space in what she described as a "4,000-square-foot, three-story home." Most tenants have little to no public presence, and calls to all but three were not returned.
At 1818 New York Ave. NE, on a bleak industrial strip near budget hotels, 45 businesses 22 of them CBEs occupy an eerily quiet 1960s-style office complex.
Though most businesses at the location are construction companies, no construction equipment can be found. Each office houses only a few desks. One-way mirrors prevent visitors from determining whether anyone is inside many of the offices; many more are dark and vacant. A darkened sauna warns, "please no sexual touching."