The ritual is one that closer Rafael Soriano has been doing for some time. For him, it simply means the work day is over.
The final out is made, so Soriano untucks his jersey.
After he sealed the Nationals' 2-0 Opening Day victory over the Miami Marlins, as Wilson Ramos pumped his right fist and pointed toward the sky, Soriano forcefully tugged out both sides of his jersey.
Spring training, he seemed to say with a flourish, was done.
"He asked me why I didn't [untuck my jersey]," said shortstop Ian Desmond. "I said, 'Sorry, Papi, I didn't know.' I wasn't expecting that. I think he wants me to, but I don't know how I feel about that. It's going to take a little warming up to.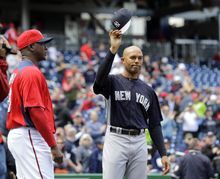 "He said if you do it, you hit homers, so I might jump on board."
In the blur that was No. 1 of 162 for the Nationals this season, Soriano's contribution at the end could've been easy to gloss over. But the contrast between the long-limbed right-hander who took the mound on Monday and the one who made a handful of appearances in the Grapefruit League was stark.
The man who struck out the fearsome Giancarlo Stanton on five pitches 91 mph or below, watching him flail at one and unable to take the bat off his shoulder at two other strikes, was on another level.
"Obviously, spring training's overrated," said Nationals manager Davey Johnson, in reference to Soriano's 8.10 ERA over seven Grapefruit League appearances.
Ramos' eyes grew wide when the topic was broached, flabbergasted by the difference in the pitcher he saw.
"So much different," Ramos said. "He changed his mind a lot. His pitches were perfect. … The ball moves and freezes them. That was pretty good stuff. I'm excited to catch him."
There was a time when Soriano was a power arm. When his fastball was clocked closer to the mid-90s than the low ones. But when several of your pitches have 8-12 inches of vertical movement, according to Pitch FX data, there's no need for the extra velocity.
He threw just four of his 11 pitches outside the strike zone — including one that induced a swinging strike.
"It's pretty hard for Raffy to get excited in the seventh inning facing numbers 78, 97 and 64, I'm sure," said third baseman Ryan Zimmerman, referring to the high uniform numbers typically issued to minor leaguers in spring training.
"The best thing about him, and I've talked to him a little bit and obviously watched him, is most closers just come in and try to overpower you," Zimmerman continued. "He's really, really smart. He knows how to get people out. Stanton, that's not an easy guy to make look foolish like that."