The Obama administration was pressed by a top Republican Tuesday to rename North Korea as a state sponsor of terrorism following the news that the Asian nation was re-starting its nuclear program.
Sen. Marco Rubio, Florida Republican and ranking member on the Senate Foreign Relations Committee's East Asian and Pacific Affairs Subcommittee, said North Korea should be put back on the list because of its "ongoing support to state sponsors Iran and Syria, including through terrorist entities such as the Iranian Revolutionary Guard Corps."
The Bush administration removed North Korea, which it had previously designated as part of the "Axis of Evil," from the state sponsor of terrorism list in 2008 after the nation said it would disable a plutonium plant and let inspectors verify that it had stopped its nuclear program.
---
SEE ALSO: Rising tensions on Korean Peninsula risk accidental war
---
A country can be taken off the list only when the president submits to Congress a report certifying that the government concerned has not provided any support for international terrorism during the preceding six-month period and has provided assurances that it will not support acts of international terrorism in the future.
The Council on Foreign Relation's website says that North Korea has not been linked to any acts of terrorism since the 1987 bombing of a Korean Airline Flight.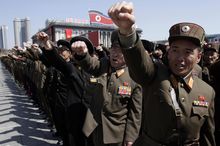 CFR, though, also points out that there have been news reporters that North Korea sold "ballistic-missile technology to Iran and Syria, both of which are on the U.S. State department's list of sponsors of terrorism, and Libya, which was removed from the list in 2006."