Two weeks after the Boston Marathon bombings, the debate still rages as to whether the two men accused of orchestrating the attack acted alone, particularly among members of Congress who say they see too much evidence of planning for an isolated operation.
Authorities have said they believe only two men — Tamerlan Tsarnaev and his younger brother Dzhokhar — were involved in the attack. The younger brother has told authorities that they acted alone.
But not everyone is convinced.
---
SEE ALSO: Boston bombings show a changing face of U.S. terrorism
---
"It's just too much — too much was perfectly synchronized here for this just to be two guys doing it on their own," Rep. Peter T. King, New York Republican and past chairman of the House Committee on Homeland Security, said on NBC's "Today" program Monday.
Even if only two men were involved in the bombings, as authorities have said, questions remain about whether they received outside training and all sides say the question of who or what may have radicalized or motivated the bombers is still open. That investigation stretches all the way to Russia, where the elder Tsarnaev brother spent part of last year.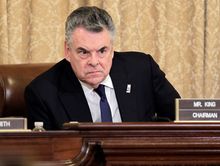 In the U.S., FBI officials were seen Monday entering the home of Katherine Russell, Tamerlan's widow.
---
SEE ALSO: Unabomber lawyer to defend Dzhokhar Tsarnaev on taxpayers' dime
---
Meanwhile, the brothers' uncle accused a U.S.-based Islamist known as "Misha" of radicalizing them. But that man was identified and said he had nothing to do with the bombings.
During questioning with law enforcement authorities, the younger Tsarnaev, 19, said he and his brother acted alone and were motivated by a desire to defend Islam, in response to the U.S.-led wars in Iraq and Afghanistan. The elder Tsarnaev, 26, was killed in a shootout with police in the aftermath of the Boston Marathon bombings, which killed three and wounded more than 260.
But over the weekend, several lawmakers said the FBI is looking at more "persons of interest" in the U.S.
Rep. Michael T. McCaul, Texas Republican and chairman of the Homeland Security Committee, said the nature of the attacks, when bombs appear to have been detonated via a remote-controlled device, was more sophisticated than anything the two could have learned online.
"In my conversations with the FBI, that's the big question," Mr. McCaul said on "Fox News Sunday." "They've cast a wide net, both overseas and in the United States to find out where this person is, but I think the experts all agree that there is someone who did train these two individuals."
Lawmakers have been getting briefings from officials on the investigation, but the information hasn't produced a clear consensus.
While Mr. King suspected other actors, Sen. Claire McCaskill, Missouri Democrat, said there is no indication of a broader plot.
"There is no evidence at this point that these two were part of a larger organization; that they were, in fact, part of some kind of terrorist cell or any kind of direction," Ms. McCaskill said on CBS' "Face the Nation." "It appears at this point, based on the evidence, that it's the two of them."
Adding fuel to the fire was a report in The Wall Street Journal on Monday that DNA from a woman was found on at least one of the bombs used in the marathon attack. Officials cautioned that it is unclear whose DNA it is, and there are many explanations for how the DNA could have gotten there.