President Obama's top health official on Thursday said the time for debating the new health care law "is really over" and that Americans should turn to trying to get the uninsured — particularly young adults and Hispanics — to sign up for coverage.
Health and Human Services Secretary Kathleen Sebelius implored a Philadelphia audience to spread the word about benefits under the Affordable Care Act ahead of a six-month open-enrollment period for state-based insurance markets, where qualified consumers may buy coverage with the help of government subsidies.
"While it may seem that this is still a political debate, the debate is really over," Mrs. Sebelius said. "The law was signed in March of 2010 by the president of the United States. A year ago, the Supreme Court upheld the constitutionality of the Affordable Care Act, and President Barack Obama was re-elected pretty overwhelmingly. This is the law, and we're about implementing the law."
---
SEE ALSO: Using pen and paper, House GOP draws bead on Obamacare funding
---
Enrollment begins Oct. 1 — a mere 40 days away — for coverage that takes effect in January, leaving little time for Mrs. Sebelius and the administration's allies to promote and explain the law.
Mrs. Sebelius called on residents to use Twitter or link information about the law on their Facebook pages, in an attempt to get younger, healthier consumers to enroll in the state-based exchanges. Their participation is key to making sure premiums do not soar when sicker patients with pre-existing conditions — who can no longer be denied coverage — also sign up.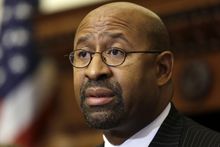 Mrs. Sebelius said uninsured Americans in the 18-to-34 age group are sometimes the hardest to reach because some do not obtain coverage before they need it.
"I know that getting health insurance is not their top priority," she said.
Her mission is complicated by a conservative-led movement to fully defund the law as part of the upcoming spending debate on Capitol Hill.
Sen. Ted Cruz, Texas Republican and rumored 2016 presidential contender, is among several high-profile Republican lawmakers who are driving the strategy, and conservative advocacy group Heritage Action is in the midst of a nine-city tour to promote it.
Democrats and some senior Republicans have warned that the plan is a dangerous one because it could bring Washington to the brink of a government shutdown.
Mrs. Sebelius spoke to Congreso, a Hispanic community outreach group, to address health disparities among Hispanics and to call on the state of Pennsylvania to expand Medicaid enrollment within its borders.
Philadelphia Mayor Michael Nutter, a Democrat, also called out Republican Gov. Tom Corbett and the state General Assembly for failing to extend Medicaid benefits to those making up to 138 percent of the federal poverty level.
He noted that neighboring states, including ones with Republican governors, opted to expand the federal-state health entitlement for their poorer residents in line with the health care law.
Mr. Corbett's office has said the governor will not entertain an expansion until they reform Medicaid and receive greater flexibility from Washington in how the expansion funds are used.
The mayor said that without the expansion, thousands of Philadelphia residents will remain uninsured.