The attorney for Army Pvt. Bradley Manning — the convicted soldier who now wants the world to call him Chelsea Manning — says his client is more than willing to pay for estrogen treatments himself, if the military allows.
Attorney David Coombs, who now refers to his male client using feminine pronouns, said on Monday that he hoped the military "will simply do the right thing" and allow Pvt. Manning to take the hormone treatments without having to go the lawsuit route. Pvt. Manning is headed toward an all-male military prison at Fort Leavenworth in Kansas, where he will spend 35 years for leaking U.S. military secrets.
Pvt. Manning announced a day after his sentencing that he wanted to turn into a female — that he had always felt as if he were a woman trapped in the wrong male body — and that he was going to live as a woman named Chelsea. Pvt. Manning also changed his middle name, from Edward to Elizabeth.
Mr. Coombs also said the Pvt. Manning doesn't want a sex-change operation right now — just female hormone therapy to help grow some female body parts and dampen the effects of testosterone. The therapy would be a big help to Pvt. Manning, his attorney said, in the AP report.
Moreover, Mr. Coombs described it as akin to someone receiving blood-pressure medication.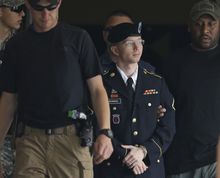 "It's just to be comfortable in her own skin," he said, in reference to Pvt. Manning.
The military has yet to respond. But in a side note, AP announced that all future wire service coverage of Pvt. Manning would reference him in feminine terms.
The wire service's statement: "The AP will henceforth use Pvt. Chelsea E. Manning and female pronouns for the soldier, in accordance with her wishes to live as a woman. This is in conformity with the transgender guidance in the AP Stylebook. The guidance calls for using the pronoun preferred by the individuals who have acquired the physical characteristics of the opposite sex or present themselves in a way that does not correspond with their sex at birth."