A push by activists to ease the 30-year-old blanket ban on blood donations from gay and bisexual men faces a key test this week as a federal panel hears results of the latest research. The findings will be released amid growing pressure from politicians and advocates, including college students, to change the policy.
Critics say the ban is a hangover from the early, fear-filled days of AIDS, stigmatizing gay men and ignoring advances in treatment and detection in the decades since.
Supporters of the policy say politics, not science, is driving the proposed change, which would heighten the risk of spreading HIV, the virus that causes AIDS, when the medical demand for blood donations is decreasing.
---
SEE ALSO: HHS report shows a decrease in blood supply but also a drop in demand
---
Under Food and Drug Administration rules, men who have had sex with men (MSM) since 1977 are ineligible to donate blood. An acknowledgment of having male homosexual relations at any time in one's life is enough to disqualify a potential donor.
"This policy is discriminatory and inadequate," said a petition drive at WhiteHouse.gov started in early November by students at the University of Michigan.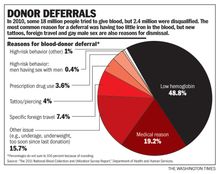 The students' solution is to change the questionnaire to ask prospective blood donors, "Have you had unprotected sexual contact with a new partner in the past 12 weeks?"
A "yes" answer would trigger a deferral "based on the window period of HIV," the petition said. "This change avoids discrimination and addresses risky behaviors that presently go overlooked. All individuals should be eligible to donate if they otherwise pass all of the FDA's requirements, including a disease-free status," the petition said.
Others say safety must remain the priority.
"The pressure for change is coming not because of a shortage of blood, but because of the politics of sexual orientation," said Peter Sprigg, senior fellow for policy studies at the Family Research Council.
Such politicization "should not play any role in the decision making on a health-related issue, on protecting the health of the American people," he said.
Weighing the evidence
On Thursday, members of the Department of Health and Human Services Advisory Committee on Blood and Tissue Safety and Availability will hear seven presentations on the MSM blood-donor issue.
In 2010, the advisory group agreed that the ban on MSM blood donations was "suboptimal" but kept it in place pending additional research to "create a road map forward," as one panelist said.
This week's presentations will provide updates about the blood-donor questionnaire, "quarantined" blood units and related studies designed to help craft a new MSM policy.
The FDA established the policy in 1985 after public health officials realized that thousands of hemophiliacs were receiving — and dying from — transfusions of HIV/AIDS-infected blood. Among the most famous victims: tennis star Arthur Ashe, believed to have received the disease from a transfusion during a coronary bypass operation.