A program that gives coveted immigrant green cards to wealthy foreign investors was so susceptible to fraud and abuse that it was used by an Iranian network that sought to send banned high technology home and spread terrorism abroad, federal investigators said.
The EB-5 program was used by "a network involved in a series of international assassinations and terrorism operations" that also was "procuring a variety of goods for Iranian entities," states an unsigned memo from U.S. Immigration and Customs Enforcement made public Thursday. The memo was written in response to questions asked by Janet A. Napolitano as homeland security secretary.
The memo called the EB-5 program a weak point in the nation's immigration security because visa holders can become green card holders and eventually citizens — without going through the background checks that most prospective immigrants face. The program is designed to attract foreigners who pledge to invest in the U.S. economy.
---
PHOTOS: Elite U.S. Navy SEALs in action
---
The memo was made public by Sen. Chuck Grassley, Iowa Republican, in a letter to ICE acting Director John Sandweg asking a series of questions about the case.
Angry law enforcement officials accused Mr. Grassley of potentially jeopardizing ongoing investigations, but the version his office released was heavily redacted, with all names removed.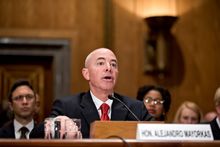 Homeland Security officials rushed to defend the EB-5 program, which was reauthorized last year with Mr. Grassley's support.
---
PHOTOS: The real Top Gun: Blue Angels and Thunderbirds
---
Peter Boogaard, a department spokesman, said all visa applications from the center in question had been put on hold while a thorough investigation is carried out. "Federal investigators found no evidence to suggest that the regional center was being used for nefarious purposes and, following the completion of that investigation, the request to hold all cases was formally lifted," he said.
But the allegations will darken the heavy cloud over the EB-5 program, which has snagged one Obama nomination to the troubled Homeland Security Department and now threatens to embroil Senate Majority Leader Harry Reid, Nevada Democrat.
The memo describes one key actor in the network as "a U.S. representative for an Iranian front company suspected of involvement in facilitating terror and proliferation activities." The other works at one of the 200-plus regional centers established under the EB-5 program. The centers bundle investors' contributions, which must be at least $1 million, or $500,000 in areas with struggling economies, and funnel them to new businesses.
But the memo says the role of the centers "inherently creates an opportunity for fraud," partly because the program does not require them to prove that the businesses funded have directly hired the 10-jobs-per-visa minimum that EB-5 visas are supposed to create. So-called "derived" or "indirect" jobs can be counted, too.
Until last year, the owners and managers of regional centers were not subject to any kind of fitness or background check and several centers have collapsed amid allegations of fraud either by the center owners or the investors themselves.
The memo concludes that the regional centers system should be scrapped.
Former officials said the Homeland Security agency that administers the EB-5 program, U.S. Citizenship and Immigration Services, has no history of expertise with adjudicating the likely success of a business plan.
CIS Director Alejandro Mayorkas has touted his reforms to the program, centralizing its administration at headquarters in Washington, instituting anti-fraud measures and hiring as many as 100 economic and business analysts.
"But you can be an MBA or accountant and not know immigration law just as easily as the other way around," said Louis "Don" Crocetti Jr., who set up the CIS fraud detection and national security office in 2003 and headed it until September 2011.