While the rest of the government prepared to shut down this fall, the State Department was busy stocking up on embassy liquor supplies.
In September, the final month of the fiscal year, the State Department spent about $180,000 — and racked up a total of more than $400,000 for the whole year, three times the entire liquor tab for all of 2008.
The liquor bill, split among purchase orders placed at embassies around the world, included some major last-minute pre-shutdown splurges:
• $5,625 in "gratuity wine" at the embassy in Rio de Janeiro on Sept. 29, followed by $5,925 in "gratuity whiskey" on the day the shutdown began.
• $22,416 in wine at the embassy in Tokyo.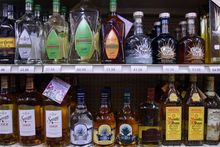 • $15,900 in bourbon and whiskey in Moscow.
U.S. embassies have long served alcohol at diplomatic events under Democratic and Republican administrations alike — and in good economic times as well as bad.
But the booze bill has risen sharply each year since 2008, according to the federal government's procurement database, which includes a specific code enabling the public to track alcoholic beverage purchase orders.
Those records show the State Department bought $415,000 worth of alcohol in fiscal 2012, which was 25 percent more than the $331,000 spent in 2011 and more than triple the $118,000 spent in 2008.
Saving a few hundred thousand dollars won't do much to reduce the government's $17 trillion debt, but any increase in taxpayer dollars spent on wine and whiskey deserves closer scrutiny in tough fiscal times, said Dave Williams, president of the nonprofit Taxpayers Protection Alliance, a watchdog group.
The department went on a buying binge just before the partial federal government shutdown and in the final days of the fiscal year, when many federal agencies try to spend all of the money in their budgets or risk exposing areas for congressional cuts.
"This is what taxpayers don't understand," Mr. Williams said. "You have a looming government shutdown but then you have a 'use-it-or-lose-it' mentality where someone is spending tens of thousands of dollars because they have to.
"If you're a family or a business and you're getting ready for a potential loss of revenue, the first thing you do is get rid of the parties," he said. "It's symbolic."
In a statement to The Times, a State Department representative said "it would be an oversimplification to look at a subset of purchases made by embassies overseas and draw a conclusion about the department's operational priorities at the time."
Officials also said, as they did in 2010 when The Times inquired about a sharp increase in alcohol spending, that funds are spent for representational purposes.