VIERA, Fla. — Kurt Suzuki had heard the scouting report. He'd been told what Christian Garcia threw, and what the 6-foot-5 right-hander had to work with. But the moment Garcia stood on the mound in September and threw a 97 mph sinking fastball to Suzuki for the first time, the catcher had two immediate thoughts.
The first was: "How have I never heard of this guy?" That was followed quickly by "How could the Yankees let him go?"
"He's friggin' nasty," Suzuki said of the man with "stuff" so good manager Davey Johnson compared it to Stephen Strasburg's last week. "His change-up is his swing-and-miss pitch, and so is his curveball. You think, 'How has this guy not been in the big leagues?'"
Unfortunately for Garcia, his medical records do most of the talking in answering that question. Two Tommy John surgeries, four years apart. Another procedure to shave down a bone spur. Years of a promising career lost in an abyss of doctor appointments and rehab programs.
How he's found himself as one of the most intriguing players in a Nationals camp largely devoid of competition for the 25-man roster is a tribute to Garcia's willingness to continually pick himself up and carry on when his body betrays him. It's a testament to how he took stock of his own work ethic when the Yankees released him and revamped the way he went about his business, shutting out the noise when people questioned what a 26-year-old was doing pitching in short-season Single-A as he made his way back.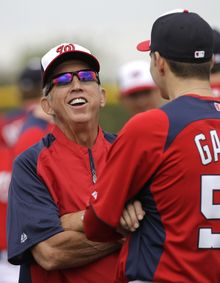 "I looked at myself and said, 'Am I doing everything possible to be the best player I can be?'" Garcia said. "I was honest with myself and said, 'No way.' From then on, if I had a spare minute it wasn't going to be used to mess around, it'd be to do something to better myself."
But it's also a tribute to the Nationals, who courted Garcia for months after he was released in the midst of his second Tommy John rehab. They were the ones who invited him to Viera for a tryout in May 2011, and had the foresight to not only offer him a minor-league contract immediately after seeing him, but make it a two-year deal. They didn't just want to take a chance on him; they wanted to invest in him.
"I had a couple other offers, but when it came down to signing they were the only team that was actually backing their offer and wanted to go all the way with it," Garcia said, explaining a frustrating process in which teams would make him an offer before sending him for an MRI, and then renege once they saw the inner workings of his elbow.
Dr. David Altchek, who performed Garcia's most recent elbow reconstruction in 2010, warned him that might happen. "It's going to look like a bomb exploded in there," Altchek told Garcia, due to all of the work that had been done over the years. The reactions seemed to indicate as much.
"I was feeling great and every team kept telling me 'no,' saying, 'He's got too much bad history,'" Garcia said.
That was not the way the Nationals viewed it, instead seeing the upside. And Garcia made them look smarter than a lot of teams as he put together a terrific season closing in the minor leagues in 2012.
He made such a strong impression in his September call-up that Johnson had no problem adding him to the team's playoff roster. Now the plan is to stretch him back out into a starter this spring and evaluate their needs when they're forced to make a decision.
Considering Garcia's three quality pitches and the more set routine starting would provide, Johnson feels it's the proper course. They know they need to keep tabs on Garcia's innings and workload either way, and they can always return him to the bullpen.
"This will be an important spring to see which way he's going to go," Johnson said, understanding that Garcia saw himself reach the major leagues as a reliever and knowing it's part of why he wants to remain one. "I've got an open mind. I'm not locked in on him [starting] because he'd be invaluable either way."
General manager Mike Rizzo said Monday that if they feel Garcia is best utilized as rotation depth, that's the role he'll fill. If he'd be a better asset in the bullpen, so be it.