Carnival Triumph 'hell cruise' not so hellish after all: passenger
Was like 'camping at sea,' he says
Many horrid tales have been told and retold about the paralyzed Carnival cruise ship that left thousands adrift in the Gulf of Mexico earlier this month.
As stories of floating sewage and onion sandwiches abounded, one could only imagine a situation akin to "Lord of the Flies," with people panicking and fighting over shelter and food.
---
SEE ALSO: Carnival hit with first lawsuit after 'cruise from hell'
---
Not so, one passenger told The Washington Times.
"It was like camping at sea," said Kirk Draut, who was aboard the Carnival Triumph with his wife, Patty. "People were playing it up for the cameras. When we saw the first helicopters with cameras, people were running into their cabins to grab their bathrobes and life preservers."
The Triumph left Galveston, Texas, on Feb. 7 for a four-day cruise to Mexico. An engine-room fire paralyzed the ship three days later, stranding more than 4,200 passengers and crew members until the ship was pulled to shore in Mobile, Ala., on Feb. 14.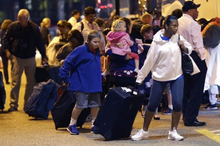 **FILE** Passengers from the disabled Carnival Triumph cruise ship arrive by bus ... more >
Frustrated passengers regaled the nation with tales of food shortages, overflowing toilets and dank, sewage-filled hallways — an experience Mr. Draut said he and his wife certainly did not share.
"We only had a small amount of water on our bathroom floor, we had running water — no hot water — and plenty of food," Mr. Draut said. "The conditions on the ship were not as bad as you were led to believe."
The passenger even uploaded photos to his Facebook and Flickr accounts of plates full of food, makeshift comedy shows and singalongs.
---
SEE ALSO: Coast Guard: Fuel leak caused fire on Carnival Triumph
---
"The crew managed to restore enough power to have comedy shows, movie night, trivia, bingo and live music," he said. "It was not 'Mad Max' at sea."
Mr. Draut said he and his wife were able to attend airings of "The Avengers," "Toy Story 3," "Grown Ups" and "Ace Ventura: Pet Detective" on a projector hooked up to a PA system in the ship's lounge.
Mr. Draut posted photos of one meal — two cheeseburgers with all the trimmings and two hot dogs with relish. One breakfast included scrambled eggs, sausage, bacon and toast with jam.
The ship's crew even created a mobile-phone charging station on floor of the ship's lobby.
He posted photos of resupply ships, which delivered food and ice for the passengers and crew. The "onion sandwich" myth came about, he said, because some people were loading up their burgers with extra meat.
Mr. Draut, who holds a degree in journalism, said that on the last night before docking, he was waiting in line to charge his phone and overheard two girls talking with the media.
"I was eating chicken fajitas and shrimp cocktails. They're sitting in deck chairs charging their phones and telling some TV station how god-awful it was," he said. "It was not god-awful."
View Entire Story
© Copyright 2014 The Washington Times, LLC. Click here for reprint permission.
About the Author
Jessica Chasmar is a continuous news writer for The Washington Times. Previously, she was part of the start-up team for The Washington Times' digital aggregation product, Times247. She can be reached at jchasmar@washingtontimes.com.
Latest Stories
Latest Blog Entries