Second Amendment advocates flocked to Annapolis on Wednesday to rally and testify against a gun control proposal by Gov. Martin O'Malley, mounting a massive protest whose scale surprised some observers in the heavily Democratic state.
Mr. O'Malley, a Democrat, was among the first of more than 400 people scheduled to testify before the state's Senate Judicial Proceedings Committee on the bill, which would ban assault weapons and require residents to obtain a license before purchasing handguns.
Before the hearing, more than 1,000 gun rights advocates gathered outside the State House to voice their disapproval, echoing scenes that have played out in other state capitals, where the push for gun control by Democratic leaders in the wake of last year's school shooting in Newtown, Conn., is getting blowback from Republicans as well as many conservative and rural Democrats.
"It just seems to be rather punitive to the law-abiding citizens of this state like myself," Tom Morris Jr., a Maryland resident and former correspondent for the TV series "America's Most Wanted," said during Wednesday's hearing. "We can limit the capacity of magazines, but that's not going to stop a criminal from putting in as many bullets as he can get."
Wednesday's rally was the latest to feature Second Amendment supporters gathering to discourage Democrats from tightening gun laws and to urge Republicans to resist such efforts after calls from President Obama and many other Democrats for national and local gun control reforms.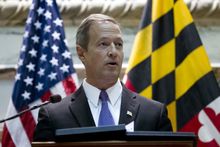 In recent weeks, the settings for such rallies have ranged from blue states such as Connecticut and Oregon to red ones such as Alabama and Texas.
Maryland gun rights groups were expecting 1,000 to 3,000 people at their rally, and attendance appeared to be within that range.
So many protesters signed up to testify at the hearing afterward that hundreds were forced to wait in a line that for much of the day stretched through the hallways of the Senate legislative building and out onto the sidewalk and around the corner.
The hearing began at 1 p.m. and was expected to end at 9 p.m. Senate staffers said more than 400 people signed up to testify, while hundreds more lined up hoping to do so.
In prepared remarks, Mr. O'Malley told the committee that tightening the state's gun laws will help prevent mass shootings and deter illegal gun buyers and traffickers.
Earlier in the day, he was expected to attend a strategy meeting a mile down the road in Annapolis between Mr. Obama and U.S. Senate Democrats.
"We choose to take on gun violence because every life is precious," the governor said during his testimony. "Because every life is needed; because there is no tragedy worse than the death of a child."
The governor's proposal would add Maryland to the 11 states that require residents to apply for and receive a license before purchasing a handgun.
It also would lower the limit on magazine capacity from 20 to 10 rounds and would require license-to-purchase applicants to pay a $100 fee.
"We license folks to drive a car, and we ask folks to get trained before getting a license," said Attorney General Douglas F. Gansler, a Democrat. "It's not an unreasonable burden for those that have a gun to get some training before they get the gun."