After briefly pumping the brakes, House Republicans were poised Tuesday night to pass the deal to avert the "fiscal cliff" despite deep misgivings about hundreds of billions of dollars in new spending included in the compromise foisted on them by Senate Republicans and the White House.
The Senate ratified the deal early Tuesday morning in an 89-8 vote, and the House followed suit later in the day, voting 257-167 in favor of the deal — though Republicans were nearly two-to-one opposed to it.
Rank-and-file GOP lawmakers had briefly rebelled early in the day, but were unable to come up with a better alternative, leaving them no choice but to let the Senate bill pass on the strength of Democratic votes.
"We went over the cliff, and we are pulling ourselves back," Rep. David Dreier, California Republican, said on the House floor.
The nation technically fell over part of the fiscal cliff as the year rang in and tax rates reverted to their levels under President Clinton, but all sides said they have a bit of time before those taxes show up as higher withholding rates in workers' paychecks.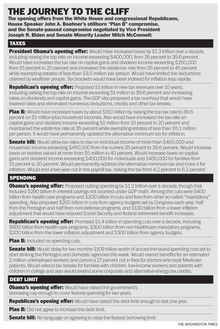 The bill is a tremendous victory for President Obama, who won almost everything he sought in the deal, and halted the GOP's momentum of the last two years on spending cuts.
It also marks an outbreak of bipartisanship at the end of a Congress where that was starkly absent, and it gives the 112th Congress a major parting accomplishment after two years that set records for futility.
"It is a good way for us to have a happy start to a new year," said House Minority Leader Nancy Pelosi.
Whether it would break the spirit of the House GOP, which has repeatedly butted heads with Mr. Obama as it pushed a conservative message, remained to be seen.
House Republican leaders faced yet another rebellion Tuesday afternoon, as rank-and-file members took a close look at the deal, which combines $330 billion in new spending with $3.6 trillion in extended tax breaks for most Americans, but a tax increase on the wealthiest.
"We wanted spending cuts — this bill has spending increases. Are you kidding me?" said Rep. John Campbell, California Republican. "So we get tax increases and spending increases? Come on."
Conservatives sought to write an alternative that included more spending cuts, but they were too divided to be able to muster a majority for any of the options, and ended up accepting the Senate-passed deal.
Even as they voted, however, both sides in the debate were already drawing lines for the next fights.
Rep. Dave Camp, the Republican chairman of the House Ways and Means Committee, said this bill sets the cap on revenue the government will collect, and said from here on the focus will be on tax reforms to streamline the code.
But Democrats disputed that, saying the bill sets the stage for future tax increases.