Republican senators Sunday indicated that little support exists on Capitol Hill — even among some Democrats — for the ban on assault weapons and high-capacity ammunition clips called for in President Obama's gun control initiative.
On "Meet the Press," Sen. Ted Cruz, Texas Republican, said the White House's proposed regulations would have done nothing to prevent the killing spree last month in Newtown, Conn.
"This is not designed to actually solve the problem of violent crime. This is designed to assuage liberal partisans who want to push gun control," the freshman senator said.
On CNN, Sen. John Barrasso, Wyoming Republican, predicted that Senate Majority Leader Harry Reid, Nevada Democrat, won't even bring a gun control bill to the floor in an attempt to avoid putting red-state Democrats in a political bind.
"He has six Democrats up for election in two years in states where the president received fewer than 42 percent of the votes. And he doesn't want his Democrats to have to choose between their own constituents and the president's positions," Mr. Barrasso said.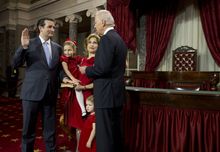 One of Congress' top conservatives, Sen. Roy Blunt of Missouri, said the White House could put together a more limited package that could pass Congress.
"This is a moment we can do something about mental health, about information sharing, maybe about background checks and other things as well, but it has to be a plan that can possibly work, or the president won't get it done," Mr. Blunt said in an appearance on "Fox News Sunday."
The Republican resolve comes after a CNN poll last week showed public support for gun control slipping one month after the Sandy Hook Elementary School massacre that claimed the lives of 20 children and six adults.
The National Rifle Association has made it clear that it intends to fight most, if not all, of the proposals put together by Vice President Joseph R. Biden's gun violence task force and unveiled by the president Wednesday.
The powerful gun rights group responded to that announcement by releasing an ad that calls Mr. Obama an "elitist hypocrite" because he rejected an NRA proposal to station police officers in every U.S. school while the president's daughters are protected at all times by armed agents.
The ad has been excoriated by Democrats and many in the media, but Mr. Cruz said Sunday that the spot makes a legitimate point.
"Many of the proponents of gun control are very wealthy," said the senator from Texas, a staunch gun rights advocate. "They live in communities where they can outsource police protection. … If you are talking to a single woman living in Anacostia, who has the misfortune of living next to a crack house, to tell her she doesn't have a constitutional right to keep and bear arms I think is fundamentally wrong."
Gun rights proponents flexed their political muscle Saturday when a series of hastily organized Second Amendment rallies drew thousands of supporters to state capitol buildings across the country — including an estimated crowd of 2,000 in Albany, N.Y.
Even some Democrats sounded cautionary notes over the weekend.
Former President Bill Clinton, speaking to a group of party supporters Saturday, warned Democrats not to underestimate gun owners.