First of three parts
Forty years ago, a poor, anonymous, pregnant woman called "Jane Roe" stepped forward to attack a Texas state law banning abortion.
She and her attorneys succeeded beyond their wildest imaginations.
The U.S. Supreme Court's landmark Roe v. Wade ruling legalized a woman's right to abortion, overturned countless state laws and unleashed a cultural and political war so enduring that weeks after abortion supporters triumphantly swept pro-choice President Obama into a second term of office, Catholic prelate Donald W. Wuerl felt compelled to publicly lament, "What is the spiritual climate in our country that allows this culture of death to prevail?"
More than 1 million abortions are performed each year in the United States, and an estimated total of 54 million pregnancies have been terminated since 1973, according to Guttmacher Institute data. But the moral and political questions surrounding the issue remain as unsettled in 2013 as they were 40 years ago Tuesday, when the Supreme Court issued its 7-2 decision.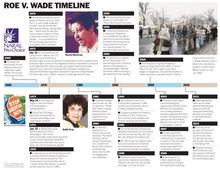 Abortion wars are under way in court and state legislatures over the "Obamacare" health care reform, and record numbers of abortion-regulating measures have been enacted at the state level in the past two years.
Abortion advocacy is also well-developed. In recognition of Roe's 40th anniversary, the pro-choice Advocates for Youth organization is championing the finding that about 30 percent of American women will have an abortion by age 45. It launched the "1 in 3" book and a campaign to tell women's stories about their abortions.
In contrast, the Silent No More Awareness Campaign is continuing its efforts to help women talk about the regrets they feel over their abortions, while Feminists for Life tells young women that they "deserve better than abortion."
The annual March for Life protest, moved this year to Friday because of Mr. Obama's inauguration ceremonies this week, remains one of the largest annual political protests staged on the streets of Washington, drawing marchers from across the country.
Although the abortion wars show no signs of easing, there are signs that the terrain on which the battles are being fought has shifted.
Prominent abortion rights advocacy groups have signaled that they will steer away from the "pro-choice" label.
"A growing number of Americans no longer identify with the 'pro-choice' and 'pro-life' labels that they believe box them in," said Cecile Richards, president of Planned Parenthood Federation of America. "Instead of putting people in one category or another, we should respect the decisions women and their families make," she said, releasing a video called "Not in Her Shoes," which urges Americans to start talking about abortion in a way "that doesn't divide you, but is based on mutual respect and empathy."
NARAL Pro-Choice America, with new President Ilyse Hogue, has introduced a "Choice Out Loud" campaign to expand the discussions.
"As a new generation of young people who support a woman's right to control her body and her life joins our ranks, the labels we use matter less," wrote Tarek Rizk, the group's communications director.
Pro-life leaders said they are not abandoning their brand.