Trayvon Martin's mother, Sybrina Fulton, and U.S. Attorney General Eric Holder are scheduled to speak at a key civil rights conference organized by the National Urban League each year.
The conference, titled "Redeem the Dream: Jobs Rebuild America," is expected to draw about 6,000 participants, The Associated Press reported.
Mr. Holder is due to speak this Thursday, the second day of the four-day conference, about the Voting Rights Act and the recent Supreme Court ruling that frees states from certain reporting aspects of the law.
Ms. Fulton, meanwhile, is scheduled to speak on Friday. She is supportive of a federal civil rights suit against Florida resident George Zimmerman, who was acquitted of murder and manslaughter charges in the killing of her 17-year-old son.
Philadelphia Urban League President Patricia Coulter said the hope is Mr. Holder and Ms. Fulton will provide "more knowledge, more information and more mobilization around the issues of voting rights and also justice," AP reported.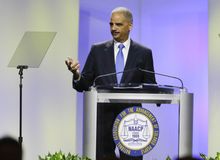 Conference attendees are also due to commemorate the 50th anniversary of the March on Washington, as well as the 150th anniversary of the Emancipation Proclamation.