Alejandro Mayorkas, who is accused of misusing his authority as director of Citizenship and Immigration Services for a client of a politically connected Democrat, denied any wrongdoing and downplayed his interactions with Virginia gubernatorial candidate Terry McAuliffe and with the brother of former Secretary of State Hillary Rodham Clinton.
Dismissing a Republican boycott, Senate Democrats pushed ahead Thursday with a highly unusual confirmation hearing for Mr. Mayorkas — who is both a target of an inspector general investigation and President Obama's pick to be No. 2 at the Department of Homeland Security.
Mr. Mayorkas said he met with Mr. McAuliffe two years ago to discuss the former Clinton fundraiser's dissatisfaction with the agency's program for issuing green cards to would-be immigrants in exchange for high-dollar investments in U.S. companies.
"I heard those complaints, and that was the extent of the interaction," said Mr. Mayorkas, who is up for deputy secretary of the Department of Homeland Security. "I do remember returning to the office and complaining about the fact that I had to hear complaints. That is all."
Documents released Wednesday by Sen. Chuck Grassley, Iowa Republican, show a businessman seeking to invest in the sister firm of Mr. McAuliffe's former green car company in exchange for U.S. legal status is a top official at Huawei Technologies Co., a Chinese telecommunications giant recently accused of spying. The company has denied those allegations.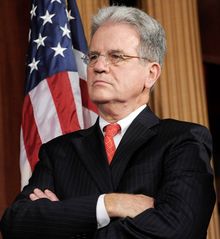 Investigators have told lawmakers that Mr. Mayorkas is being probed for ramming through a visa application for McLean-based Gulf Coast Funds Management after it was denied by CIS and that denial was confirmed by the appeals process.
Mrs. Clinton's brother Anthony Rodham is president and CEO of the company, which bundles investment money from foreigners who want to come to America on the investors program. Its sole client appears to be Mr. McAuliffe's former company, GreenTech Automotive Inc.
Later in the hearing, Mr. Mayorkas noted that "Gulf Coast complained in 2011, they complained in 2012 and they continue to complain in 2013."
Republicans expressed dismay over holding the hearing, and have been highly critical of the federal EB-5 program, under which people can invest $500,000 to $1 million in certain U.S. companies are rewarded with visas and, potentially, citizenship.
"I cannot participate in a hearing I believe to be unfair and improper to all parties involved," said Sen. Tom Coburn, Oklahoma Republican.
Sen. Thomas R. Carper, Delaware Democrat and chairman of the Senate Committee on Homeland Security and Governmental Affairs, said he decided to press on with the confirmation, in part, so that Mr. Mayorkas could publicly address the allegations against him, and the nominee denied all the charges.
Under questioning by Sen. Claire McCaskill, Missouri Democrat, Mr. Mayorkas flatly denied the accusations against him.
"I have never, ever in my career exercised undue influence to influence the outcome of a case," the former U.S. attorney said. "The allegations, as they have been framed, are unequivocally untrue."
Mr. Mayorkas said the EB-5 program "is very controversial and it is very complex."
"I do not adjudicate cases," he said. "Difficult and complex or novel issues of law and policy … reach me … through cases," he said, explaining that such an issue had arisen with regard to the case under investigation.