Tanzania's storied wildlife reserves could soon get a watchful, winged inhabitant: U.S. drones.
On his visit to the East African nation last month, President Obama discussed the possibility of using unarmed, unmanned aircraft to help overstretched park rangers combat the growing problem of elephant poaching in Tanzania's vast wildlife reserves and national parks, Tanzanian Ambassador to the United States Liberata Mulamula told editors and reporters at The Washington Times this week.
Wildlife groups estimate that 10,000 to 25,000 elephants are killed in Tanzania each year for their ivory tusks and the number of elephants in southern Tanzania has fallen by more than half. Much of the ivory is shipped illegally to Asian markets.
"The extent of poaching is very, very, very high," John Salehe, director of the African Wildlife Foundation's Maasai Steppe, said in a phone interview from Tanzania.
There has been sharp increase in elephant poaching over the past year, he said.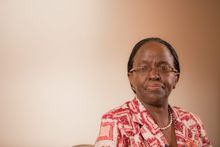 Tanzanian officials say the area that needs to be monitored is vast with too few rangers.
"There is trafficking, but also there is criminality, so we are fighting both," said Mrs. Mulamula. "If we can work together, we can put an end to this."
That is where drones could play a crucial role.
"The American administration is ready to put up funds to help us in areas where we think we can be able to work together and put an end to this trafficking and killings," Mrs. Mulamula said.
"One area, they said, was training [to] get more rangers. There was even suggestions that the U.S. government can help us with these drones."
Mrs. Mulamula said Mr. Obama did not make any commitment to provide drones to Tanzania.
"But this was being said [in the discussions] that this was one of the possibilities," she added.
However, a senior Obama administration official, speaking on the condition of anonymity, later said the U.S. is not considering providing drones to Tanzania but declined to elaborate on a meeting between Mr. Obama and Tanzanian President Jakaya Kikwete in Tanzania on July 1.
Right after that meeting, Mr. Obama acknowledged the threat posed by poaching and trafficking of animal parts. Mr. Obama issued an executive order to, in part, help foreign governments tackle the problem.
"[T]his includes additional millions of dollars to help countries across the region build their capacity to meet this challenge, because the entire world has a stake in making sure that we preserve Africa's beauty for future generations," Mr. Obama said.