For years, out-of-control tuition costs and funding woes have been the biggest stories in the world of American higher education.
Now, a series of high-profile scandals have put the sector under an even brighter spotlight as leading university presidents — including Ohio State University's E. Gordon Gee and Florida Atlantic University's Mary Jane Saunders — have resigned amid unprecedented scrutiny.
Although it may be unfair to hold the head of an institution personally responsible for what happens in every corner of campus, analysts say, the dawn of social media and other factors have created a reality in which leaders of colleges large and small must accept that they are under the microscope at all times.
The job, they say, has become harder, the outside pressures greater, and the odds that an embarrassing misstep will become public — and viral — far higher then ever before.
"There's simply more pressure being put on public university presidents these days. There's a lot of attention on them. Presidents [of colleges] live in fishbowls," said Dan Hurley, director of state relations and policy analysis at the American Association of State Colleges and Universities. "Everything they do and say is going to be scrutinized and in the age of social media, it's a lot more challenging."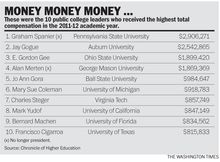 During the past two weeks, two college presidents have vacated their posts under different circumstances.
Joseph R. Urgo resigned as president of St. Mary's College of Maryland after the school reportedly misjudged its recruiting targets for the incoming freshman class. The drop in new students led Mr. Urgo to warn of potential budget cuts, and The Baltimore Sun reported that the situation led to a "crisis of confidence" under his leadership.
In a power struggle, University of Virginia President Teresa Sullivan was ousted briefly by the Charlottesville school's board of visitors before an uproar from students, the faculty and others led to reinstatement.
An apparent power struggle with the school's board of trustees led Hastings (Neb.) College President Dennis Trotter to quit his post abruptly this year, barely two years into his tenure.
Holding a university president accountable for sinking enrollment or academic mismanagement is nothing new. The whirlwind of criticism that drove Mr. Gee from Ohio State, however, is a different matter.
The iconic figure, one of the highest-paid college presidents in America, stepped down after his disparaging remarks about Catholics and Southern schools came to light. He made the comments at an Ohio State Athletics Council meeting in December, and they surfaced after The Associated Press requested public records.
Social media scrutiny
Years ago, those comments might have never been revealed publicly. Now, a president's every word could become news media fodder or end up on YouTube.
"I do think social media and cellphones and the possibility that every step you take is recorded forever in posterity is something that people have to live with," said John Garvey, president of The Catholic University of America, whose career also has included the top job at Boston College Law School and stints at other leading institutions.
To some degree, media coverage also drove Ms. Saunders from her job at Florida Atlantic. She resigned last month after a move to allow a for-profit prison company to have naming rights over the school's football stadium.