Even as President Obama extolled the contributions of gay citizens Thursday, a clash over gay rights on Capitol Hill was threatening to unravel his cherished goal of immigration reform.
Mr. Obama celebrated Lesbian, Gay, Bisexual and Transgender Pride Month at the White House with champagne served to same-sex couples, gay administration officials and other guests.
"From Minnesota to Maryland, from the United States Senate to the NBA, it's clear we're reaching a turning point," Mr. Obama said. "We have become not just more accepting; we've become more loving as a country and as a people. Hearts and minds change with time; laws do too."
The bond between Mr. Obama and gays is clear. A Pew Research poll released Thursday found that 76 percent of LGBT adults view Mr. Obama favorably, while his approval rating with the general public is 47 percent. But the president who ended the military's policy of "don't ask, don't tell" is in a jam with gay-rights groups over immigration.
Activists are pressuring the president to take a stronger stand on an amendment to the Senate immigration reform bill that would extend benefits to gay partners of American citizens in states where gay marriages are legal. Federal law doesn't recognize gay marriages.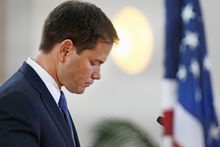 The proposal was introduced by Senate Judiciary Committee Chairman Patrick J. Leahy, Vermont Democrat, who also wants to ensure that same-sex partners of American citizens can remain in the U.S. without fear of being separated and deported by the government. Several key Republican senators say Mr. Leahy's proposals would kill overall immigration reform.
"If this bill has something in it that gives gay couples immigration rights and so forth, it kills the bill. I'm done," said Sen. Marco Rubio, Florida Republican and a key member of the bipartisan "Gang of Eight" senators who wrote the legislation. "I don't think that's going to happen, and it shouldn't happen. This is already a difficult enough issue as it is."
Sen. Lindsey Graham, South Carolina Republican, said that adding gay marriage benefits would dissolve the coalition of religious groups that is supporting the bill.
High stakes for Obama
The collapse of the immigration bill would be another huge blow to Mr. Obama, who lost a high-profile fight this spring on gun control and is eager to pocket a significant legislative achievement in his second term.
Mr. Obama has pointed to the legislation, written by four Republicans and four Democrats, as proof that he and congressional Republicans are capable of working together. Such examples are few, and it's not clear whether a more active and visible role by Mr. Obama would help or hurt the bill's chances on Capitol Hill.
Although Mr. Obama is fond of saying he has run his last race for public office, he also knows that gays provided significant financial support for his re-election. By one estimate, gays accounted for one out of five "bundlers" who raised at least $500,000 for Mr. Obama's campaign last year.
The leader of a gay Republican group said Mr. Obama should take a stronger stand on the proposal to allow same-sex partners to stay in the U.S.
"If an immigration bill is passed by Congress this year, then it should include this important provision," said Jimmy LaSalvia, executive director of GOProud Inc., a group of gay Republicans. "The president could do more to push for inclusion of the gay provision, but he doesn't appear to be very involved in the process at all, not just on that issue."
Mr. LaSalvia said the proposal should not be considered a "poison pill" for the overall bill.