It's early — 17 months early — but Republicans have reason to be optimistic about the way the 2014 Senate races are shaping up around the county, especially in South Dakota and West Virginia, where Democratic incumbents are retiring.
Republicans also have solid options emerging in Louisiana, Arkansas and North Carolina, red states where Democratic incumbents are considered vulnerable.
Almost a year-and-a-half out from the 2014 midterm elections, when 35 seats — 21 now held by Democrats and 14 by Republicans — will be up for grabs, a GOP road map for picking up the six seats needed to retake control of the Senate is taking shape.
---
SEE ALSO: Frank Lautenberg was last WWII veteran in Congress; N.J. Gov. Chris Christie to pick replacement
---
A key stop on that map is South Dakota.
Democratic Sen. Tim Johnson's decision to step down at the end of his current term has created an opening for either former Republican Gov. Mike Rounds, who has declared his candidacy, or second-term GOP Rep. Kristi L. Noem, who is flirting with a bid.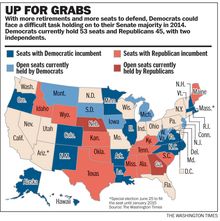 Whoever emerges as the GOP nominee is thought to have the upper hand after former Rep. Stephanie Herseth Sandlin opted out of the race, leaving long-shot Rick Welland, a former aide to retired Sen. Tom Daschle, as the likely Democratic nominee.
---
SEE ALSO: Christie faces tricky task in filling N.J. seat
---
Two more promising pickup possibilities are in Louisiana, where Rep. Bill Cassidy is off to a strong fundraising start in a GOP primary race that could get crowded, and West Virginia, where Republican Rep. Shelley Moore Capito is holding a lead in a state that strongly backed Mitt Romney last year.
Outside those three states, the map is less clear.
In Nebraska, two prominent Republicans passed on a run for retiring Sen. Mike Johanns' open seat — opening the door for a dark horse like Ben Sasse, a former George W. Bush administration official the GOP may turn to in hopes of offering voters a fresh face who could keep the seat in its corner.
And in Montana, Democrats are waiting to see whether popular incumbent Gov. Brian Schweitzer will jump into the Senate race, which could seriously damage GOP hopes of grabbing that seat.
Kyle Kondik, of the University of Virginia's Center for Politics, said the 2012 presidential election shows where the Republican opportunities can be found. They need to recapture six seats in seven states that GOP presidential nominee Mitt Romney carried last year.
The party's problem, one observer said, is getting the right people to run.
"Their recruiting has gone poorly so far in places like Colorado, Iowa, Michigan, Minnesota, New Hampshire and Virginia," Mr. Kondik said. "So, despite having a big map to play offense on, in reality the Republican road appears to be narrowing to the red presidential states: Alaska, Arkansas, Louisiana, Montana, North Carolina, South Dakota and West Virginia. Luckily for them, Republicans can capture the Senate without winning a single seat in Obama states."
Part of the challenge is to find new faces the party can turn to as it continues to shed the image it had during the Bush administration and to meld tea-party enthusiasm with candidates who bring campaign experience.
Seeking a challenger to Sen. Jeanne Shaheen in New Hampshire, the GOP is eyeing former Massachusetts Sen. Scott P. Brown, who lost his seat to Democrat Elizabeth Warren in the 2012 election and has not ruled out a Granite State run.