If a team is what its record says it is, the Washington Nationals are currently a losing ballclub at 28-29.
This time last year, the Nationals were 34-23, hardly having looked back after a 14-4 start to the season and on their way to a major league-best 98 wins. This year, despite the predictions and the expectations, the Nationals have not performed up to the standard they set in 2012.
The question, of course, is why the Nationals have struggled so mightily to win games. The answer is multipronged but the biggest culprit is offensive inconsistency and ineffectiveness. The numbers, bleak and standing in stark contrast to the team's potential, tell the story.
When the Nationals were in Baltimore last week, shortstop Ian Desmond glanced at the scoreboard and saw an Orioles team with six players who have knocked in 30 runs or more. The Nationals don't have a single one.
"That's run production, guys getting on base," Desmond said. "Once everyone starts clicking, the numbers are going to start going up, and we're going to be fine."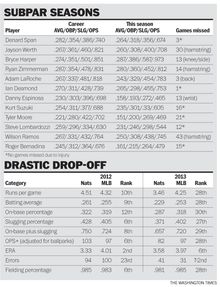 Walking wounded
The Nationals entered Monday with five members of their Opening Day roster on the disabled list. Key members.
Currently missing from their active roster are Bryce Harper, Jayson Werth, Wilson Ramos, Ross Detwiler and Ryan Mattheus. Though they're expecting Werth back Tuesday, should Stephen Strasburg's Grade 1 lat strain linger past Wednesday, they will add their ace right-hander to the list. Hard-throwing right-hander Christian Garcia remains on rehab after partially tearing a tendon in his right wrist during spring training.
"Obviously," Desmond said, "we're not playing a full squad here."
The Nationals know they have enough talent in the room to be playing better than they are. They also know that losing a good chunk of that talent to injury has not helped.
"You've got to be healthy," said first baseman Adam LaRoche. "We've got guys playing that aren't fully healthy. [Danny Espinosa is] a little beat up, and then obviously Harp, Jayson, Ramos, Mattheus, we've got a list of guys that we use everyday who aren't playing. So it's tough."
Perhaps the harshest spotlight has been on Espinosa, who is playing through a torn rotator cuff in his left shoulder along with a fracture and bone chips in his right wrist. His .465 on-base plus slugging is the second-worst among all major league players with at least 100 plate appearances (Milwaukee's Alex Gonzalez is at .433).
Over the weekend, the news came down that the Nationals had promoted top prospect Anthony Rendon to Triple-A. Rendon, a natural third baseman, has played second in both games at Triple-A and it's easy to connect the dots on the organization's thinking.
How to find a way out
After the Nationals' loss to the Braves on Sunday dropped them 6 ½ games back in the National League East and under .500 for the first time since April, they tried to remain positive. They know there are 105 games left to play, and that it's not always the team with the best record after the first third of the season that is in it at the end. But they also have little time to waste.