ANALYSIS/OPINION:
On May 13, while the Capitals were in the process of losing 5-0 at home to the Rangers in Game 7 of a first-round playoff series, the Bruins were at home falling behind Toronto 4-1 in Game 7 of that series.
Caps players could call their buddies on the Bruins and make some tee times because surely those Bruins would be available.
It was 4-1 and barely more than 10 minutes remained. The Bruins were done. You can't kick field goals in hockey.
Except Boston managed three more regulation goals, including two in the final 1:22, then won the game (and series) in overtime.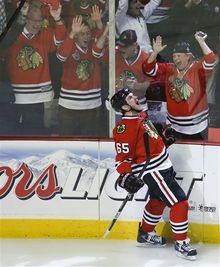 The Bruins still aren't golfing. They've won seven of eight playoff games since, steamrolling the Rangers in five games and bursting out to a 3-0 series lead against the vaunted Penguins. They're one victory away from playing for another Stanley Cup, and they have four chances to get it.
They will.
The Blackhawks, meanwhile, found themselves down 3-1 in games to the Red Wings in the second round. They won the next three, including Game 7 in overtime and have since taken a 2-1 series lead on the Kings going into Thursday's fourth game of the Western Conference finals.
What they have is something that is clearly missing around these parts. The troubling thing is it can't be obtained in a draft, a trade, by waving a magic wand. Or maybe it can, if you manage to put together the right collection of players.
It is intangible. It doesn't score goals or stop them, not directly anyway.
There are other words for it, but let's just go with guts.
Championship teams seem to find a way when there really isn't one. Most teams that win a championship in any sport that requires them to navigate multiple games (like the NCAA tournament) or series (like the NBA or NHL playoffs) have to at least once pull victory out of an uncomfortable place. They have to win when they should have lost, not lose when they should have won.
They have to be 4-1 down late in a game and win. They have to be 3-1 down in a series and win.
Sound like a hockey team we know?
The Capitals didn't get off to a great start in life when they went 8-67-5 in 1974-75, their first season. But they got good pretty quickly and have been in the playoffs 24 times since 1983. In other words, way more often that not. Nothing wrong there.