Keith Burns grabbed the white whistle dangling around his neck and lifted it to his mouth at Washington Redskins practice last week.
Weeeeeeeeet!
Ten special teams players sprinted to separate orange cones Burns had carefully positioned on the field minutes earlier.
"Let's get it!" Burns shouted. "Get to where you need to be!
"Good! Good! Good!"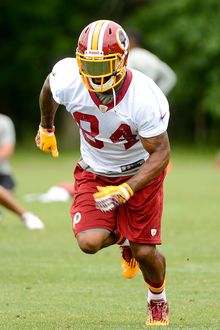 For the past nine seasons, special teams drills were among the most colorful portions of Redskins practices. Coordinator Danny Smith exuded energy in every way. His raspy voice echoed off the surrounding trees, sometimes featuring choice four-letter words. Smith bounced around the field like a popping firecracker as he chomped several pieces of gum. He was manic.
Earlier this offseason, though, Smith departed to join the Pittsburgh Steelers. Unit captain Lorenzo Alexander followed him out by signing a free-agent contract with the Arizona Cardinals. In a matter of weeks, the Redskins' two greatest special teams leaders were gone.
Coach Mike Shanahan hired Burns, a former special teams standout for him in Denver, to replace Smith. This spring, Burns has overseen a transition players say is significant.
"Anytime you've been with somebody for a long time and you change little techniques or schemes, it takes some adjusting, I think, on both ends," seven-year Redskins special-teamer Reed Doughty said. "Coach getting used to what we've been taught in the past and how to get us best on the same page, and same with us. Just figuring out his coaching style and finding out exactly what he wants. Keith has done a great job coming in."
It would be difficult for Burns to match Smith's exuberance during practice — not that it's necessary. Performance in games is paramount, and the Redskins have significant room for improvement.
Their kickoff coverage unit ranked 18th in the NFL last season in opponents' average starting field position. The kickoff return was 26th.
Washington's punt coverage unit ranked eighth in the NFL (8.2 yards per return), and the punt return unit ranked 17th (9.3). The Redskins also had punts blocked in each of their first two games.
And return specialist Brandon Banks was deactivated for the final four games of the regular season and the playoff game because of ineffectiveness.
Redskins players consistently defended Smith, citing his extensive preparation, and assumed responsibility for any breakdowns.
That's all behind them now, though. Optimism abounds as Burns implements some new techniques.