The Pentagon has squandered billions of dollars over the past two decades on weapon systems it never produced and on rosy cost estimates that ballooned to sizes that ate up funds for other projects, according to government reports and defense analysts.
The miscalculations have come back to haunt the armed forces at a time when tighter budgets are forcing it to curtail basic war-fighting preparations such as training, ship and aircraft repairs, and overseas deployments.
Pro-defense conservatives, however, say that despite the procurement mistakes, the country needs a robust military to confront an array of threats — and that costs money.
Still, how the Pentagon misspent billions over two decades has relevancy for the future.
Money devoted to doomed programs such as the Army's Future Combat System or poured into the F-35 Joint Strike Fighter could have come in handy today. Analysts say that if the Pentagon had better-managed the research, development and acquisition of satellites, vehicles and planes, the force in 2013 would be more modern and more resilient against automatic spending cuts, or "sequestration," that began March 1.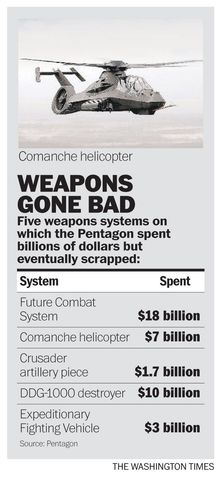 "Of course they would have more money available to do other things," Thomas Christie, the Pentagon's top weapons tester from 2001 to 2005, told The Washington Times.
"The Joint Strike Fighter," Mr. Christie said. "We would have been halfway through the program at half the cost if things had been managed property. I think we screwed that up by trying to combine three different capabilities in one airplane, and then mismanaged it even beyond that. Here we are, 2013. We almost should have finished buying the thing."
Ben Freeman, national security investigator at the Project on Government Oversight, said poor management has "immensely" affected the armed forces today because misplaced money could have been used to make the force more combat ready.
"One of the problems with sequestration, and one of the reasons all the services are saying 'it's so devastating, it's so devastating,' is because they're getting such little bang for their buck," Mr. Freeman said. "When they do have to cut money from it, it cuts a lot because they're not getting a lot for that money that they have spent."
The procurement 'game'
The F-35 Joint Strike Fighter, with its family of complex variants for the Air Force, Navy and Marine Corps, has become Washington's archetype for weapons programs that far outpaced early cost estimates in the past 20 years.
According to the Government Accountability Office, the estimated development and procurement costs for the F-35 have soared from $233.3 billion in 2001 to nearly $400 billion today. The reformist Center for Defense Information says the latest total cost estimate adds up to a nearly 100 percent cost overrun.
What's more, the total cost to fly the fleet of 2,443 planes for 30 years has topped the $1 trillion mark, a figure Pentagon officials concede is not affordable.
Frank Kendall, the Pentagon's undersecretary for acquisition, last year called the F-35's procurement process "acquisition malpractice" because the plane was being developed at the same time it was being manufactured. Glitches found in test flights have had to be corrected during production at a huge cost.
The Army sank $18 billion into the Future Combat System to fight on what it thought would be tomorrow's high-tech battlefield. On the drawing board: 14 ground vehicles, communications hubs and unmanned aircraft that would revolutionize how soldiers fight. Not a lot came of it. Like the F-35, total program costs ballooned, from $92 billion to $159 billion.