PHOENIX — Bruce Allen is uncomfortable reveling in the Washington Redskins' NFC East division championship more than two months after the fact.
On a sundrenched Tuesday afternoon outside the Arizona Biltmore hotel at the NFL annual meetings, he downplayed the possibility he might be content with the franchise's turnaround last season in his third year as general manager.
"I think there's one team pleased here," Allen said.
Indeed, members of the Super Bowl champion Baltimore Ravens still are smiling here this week despite some critical losses in free agency. Allen and the Redskins, meanwhile, are targeting another step forward in 2013 despite a crippling $18 million salary cap penalty.
Continuity and building through the draft continue to be guiding principles. They have shaped their vision from the day Allen took over in Dec. 2009 and coach Mike Shanahan joined him weeks later.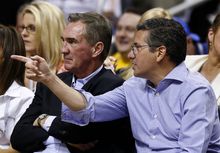 "That's been our plan from the beginning," Allen said. "We wanted to draft and develop our players and reward our players."
Others in the league have noticed. Andy Reid took over the Philadelphia Eagles the same year Redskins owner Daniel Snyder began managing the team. Reid's Eagles were 17-11 against Washington.
The reason for the Redskins' turnaround last season was clear to Reid from his vantage point at the bottom of the NFC East.
"They've had continuity now," said Reid, now the coach in Kansas City. "The owner has maintained that, and that's important."
The Redskins have tried to continue that this offseason in light of their salary cap limitations. They have re-signed 10 of their own free agents.
Allen and Shanahan, however, want their stint in salary cap jail to be as short as possible. They have resisted restructuring contracts to create cap space because doing so involves risk of dead money in future years. That approach has conflicted with their preference for continuity in one high-profile case.
Pro Bowl special teamer Lorenzo Alexander signed last week with the Arizona Cardinals a three-year deal that included $3 million guaranteed.
Washington also has signed only two free agents from outside the team. Veteran right tackles Tony Pashos and Jeremy Trueblood each agreed to one-year deals worth the veteran minimum.
The lack of salary cap space also has prevented the Redskins from seriously contending for a top-tier free-agent cornerback.
Allen was asked if the first week of free agency was frustrating.