Jeb Bush, who served as Florida's governor from 1999 to 2007, may very well announce a run for the White House in 2016.
In direct questioning, he didn't take the idea off the table.
"I won't [rule it out] but I'm not going to declare to today, either," he said, The Hill reported. "That's way off into the future. I have a voice, and I want to share my beliefs about how the conservative movement and the Republican Party can regain its footing, because we've lost our way."
Mr. Bush, who will be speaking at the Conservative Political Action Conference later this month, expressed surprise at the seeming snub of N.J. Gov. Chris Christie, who was not invited to speak.
"I'm a little surprised," he said, The Hill reported. "[But] I think there was some disappointment in how Gov. Christie dealt with the budget issues related to Sandy, trying to advocate his position.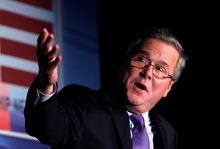 Mr. Bush also said he fully supported Mr. Christie — who has also received many endorsements from Democrats for his re-election.
"Look, I love Christie," Mr. Bush said, in The Hill. "I think Gov. Christie is a part of the future of the Republican Party for sure."