The man who led the Internal Revenue Service when it was inappropriately scrutinizing conservative groups' applications for tax-exempt status said Tuesday that he intentionally kept himself in the dark about those kinds of decisions because he thought, as a political appointee, he should keep his distance.
Douglas H. Shulman, who was commissioner from 2008 to 2012, told the Senate Finance Committee that he didn't learn details of the agency's political targeting until the inspector general released a blockbuster report last week. Mr. Shulman becomes the second IRS official to testify in the burgeoning scandal, which has the agency reeling and has the White House trying to explain how much it knew.
On Wednesday, Lois Lerner, the woman who ran the IRS division accused of malfeasance and who now leads the IRS office in charge of enforcing President Obama's health care law, will testify but will refuse to answer questions on the grounds that she doesn't want to incriminate herself.
---
SEE ALSO: White House plotted with Treasury on how to reveal IRS misdeeds
---
Ms. Lerner, who is slated to appear before the House Oversight and Government Reform Committee, is considered a crucial witness because Mr. Shulman and acting IRS Commissioner Steven Miller have testified that they didn't know much about the political targeting.
Mr. Shulman, who was appointed by President George W. Bush and left the IRS last year, said he was "dismayed" when he read the audit detailing how the IRS singled out for special scrutiny conservative groups that were applying for tax-exempt status.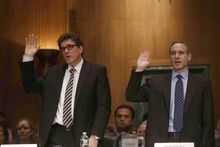 He denied responsibility for a list that told specialists to "be on the lookout" for tea party groups in summer 2010.
---
SEE ALSO: HURT: IRS figures find grilling before Congress taxing
---
"With that said, this happened on my watch," he told the committee, "and I very much regret that it happened on my watch."
"I don't think that qualifies as an apology," replied Senate Minority Whip John Cornyn, Texas Republican.
Mr. Shulman said he purposely avoided becoming involved in decisions of the unit in Cincinnati that reviewed these cases, which he felt should be left to career employees. Involvement by a political appointee such as himself could be construed as trying to influence the agency's actions on political grounds, he said.
"I had a partial set of facts, and I knew that the inspector general was going to be looking into it, and I knew that it was being stopped," Mr. Shulman told the panel. "Sitting there then and sitting here today, I think I made the right decision, which is to let the inspector general get to the bottom of it, chase down all the facts and then make his findings public."
Mr. Shulman's testimony to the Senate highlighted what Democrats said is a problem in the tax code: groups that use the tax law to hide their donors while taking part in politics.
"Today, there are countless political organizations at both ends of the spectrum masquerading as social welfare groups in order to skirt the tax code," said Senate Finance Committee Chairman Max Baucus, Montana Democrat.
The IRS has acknowledged bad judgment in targeting conservative-leaning groups with "tea party" or "patriot" in their names.
However, the service's officials argued before Congress last week that the scrutiny was not politically motivated, but intended to streamline investigations into the flood of applications after a 2010 Supreme Court decision.
That claim seems to be false according to the data the IRS provided to the Treasury Department's inspector general. According to those numbers, the IRS received fewer applications for tax-exempt status under section 501(c)(4) of the tax code in 2010 (1,735) than it did in 2009 (1,751).