Despite rosy platitudes from President Obama on Veterans Day, more than 700,000 former servicemen and women remain waiting for medical benefits owed to them because of a backlogged system that takes an average of 300 days to navigate.
Even when VA offices do process claims, they make many mistakes and erroneous decisions that frustrate veterans and their families, according to internal reports reviewed by The Washington Times.
The latest statistics from the Veterans Affairs Department, reviewed by The Times, leave the president struggling to fulfill his promise — Mr. Obama vowed during his 2008 campaign to reduce virtually all VA claim decisions to an average of 125 days by the end of 2015.
---
SEE ALSO: Obama hits lowest approval rating of presidency: Poll
---
Instead, the backlog has grown substantially during the president's first five years in office. Although some gains were made in the past year to reduce the backlog from the high-water mark it reached in 2012, the VA still falls far short of meeting Mr. Obama's goal.
That exasperates key lawmakers.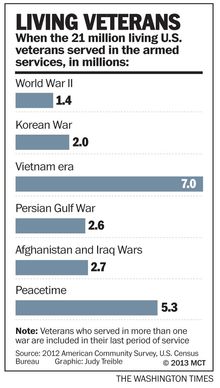 "Congress has provided the VA with everything it has asked for to reduce the backlog, so why is the department not delivering the results its leaders promised?" said House Veterans Affairs' Committee Chairman Jeff Miller, Florida Republican.
As of September, the VA said, it has 736,666 claims awaiting processing. Of those, 59 percent — roughly 435,000 claims — have been waiting longer than the 125-day benchmark.
The VA fell about 100,000 claims short of its goal for processing in fiscal year 2013.
However, the only reason it didn't fall further behind was because the agency received 270,000 fewer claims than it was expecting for the year. Had the VA received the number of claims it was expecting, the backlog could have been close to 1 million.
The agency has had some success in reducing its backlog. Both the total number of claims and the number of claims older than 125 days have each decreased by about 100,000 since The Washington Times reported on the backlog last year.
"Veterans shouldn't have to wait for the benefits they've earned," VA Secretary Eric K. Shinseki said. "We still have more work to do, but we are making clear progress."
In Monday's Veterans Day speech at Arlington National Cemetery, Mr. Obama said his administration would always work to improve conditions for veterans.
"We're going to keep reducing the claims backlog," the president said. "We've slashed it by a third since March, and we're going to keep at it so you can get the benefits that you have earned and that you need, when you need them."
The VA has reduced its backlog amount — though calling the improvement "a third" is rounding up — from March when 70 percent of its claims were waiting longer than 125 days.
But more claims being processed doesn't always mean they are being processed effectively. Over the past year, the VA's inspector general, its internal watchdog, has found a long list of the department's regional offices mishandling disability claims, making mistakes such as not requesting enough medical information, or possibly giving benefits to people who didn't qualify.