In just six weeks, Republicans have completely erased a 9-point deficit in a generic congressional ballot question and are now running even with Democrats.
Thirty-nine percent of registered voters say they would vote for a Democrat in their district — and the same percentage say they would vote for a Republican — if elections for the U.S. House of Representatives were held today, according to numbers from a Quinnipiac poll released Wednesday.
Last month, Democrats had held a nine-point advantage on the same question, 43 percent to 34 percent.
---
PHOTOS: Ted Cruz hunts for pheasants — and potential 2016 support — in Iowa
---
Independent voters favored Democrats in October, 32 percent to 30 percent, but now favor Republicans by a 37 percent to 26 percent margin.
That's not to say voters are wildly impressed with either party; 20 percent approve of the way congressional Republicans are handling their jobs, compared with 73 percent who disapprove. Interestingly, 30 percent approve of how Democrats in Congress are handling their jobs, compared to 62 percent who disapprove.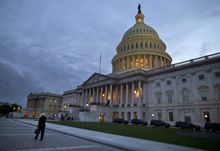 A similar split is evident in voters' opinion of both major political parties. Thirty-eight percent have a favorable opinion of the Democratic Party, compared to 48 percent who have an unfavorable opinion. Meanwhile, 31 percent have a favorable opinion of the Republican Party, with 54 percent holding an unfavorable opinion of the GOP.
A majority of voters don't like how top congressional leaders are handling their jobs: 58 disapprove of House Speaker John A. Boehner, Ohio Republican, 55 percent disapprove of House Minority Leader Nancy Pelosi, California Democrat, and 52 percent disapprove of Senate Majority Leader Harry Reid, Nevada Democrat.
A plurality of voters — 46 percent to 27 percent — disapprove of how Senate Minority Leader Mitch McConnell, Kentucky Republican, is handling his job.
"In Washington today, it comes down to who the voters dislike the least," said Tim Malloy, assistant director of the Quinnipiac University Polling Institute. "There are no heroes."
The poll of 2,545 registered voters was conducted from Nov. 6-11 and has a margin of error of 1.9 percentage points.
Thirty-two percent of respondents self-identified as Democrats, 26 percent said they were Republicans, and 35 percent said they were independents.